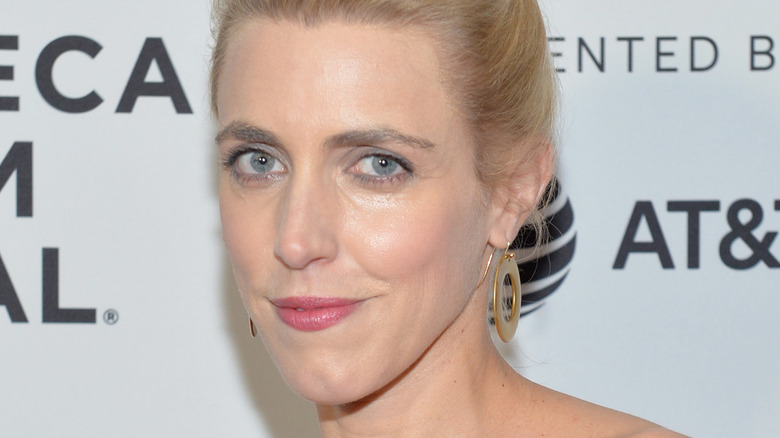 Clarissa Ward has made quite the name for herself in the news world. The London-based reporter has worked for many reputable news outlets throughout her decades-long career and is, at the time of this writing, the Chief International Correspondent for CNN. As part of her work with the network, Ward has fearlessly traveled all over the world and has been on the ground to properly cover an international story — and in August 2021, the New York native became one of the most prominent journalists in Afghanistan when the Taliban seized control of the country following the withdrawal of U.S. troops.
But who's the woman behind this fearless reporter? From what inspired her to go into journalism and scary reveals about her frontline reporting work in warzones to details about her sweet home life, let's take a closer look into Clarissa Ward's professional endeavors, personal life, and what led her to become the prominent journalist she is today.
Clarissa Ward felt journalism was her 'calling'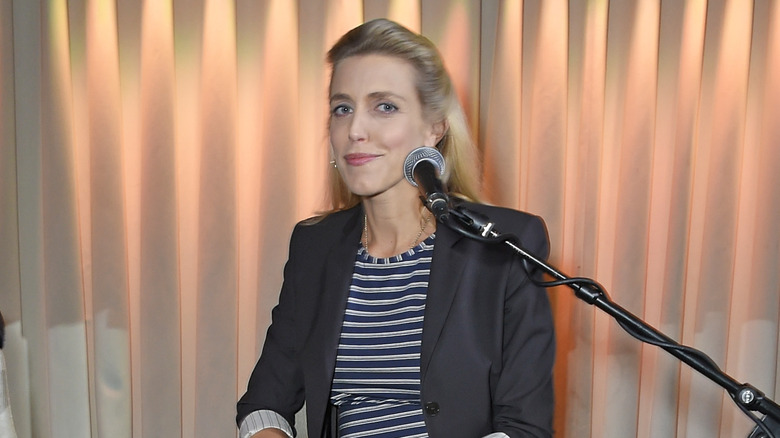 Clarissa Ward may be CNN's Chief International Correspondent, but she worked hard to get where she is today. In 2020, Ward dished to NPR about what led her to journalism in the first place nearly two decades prior.
"I was a senior studying comparative literature at Yale. ... And suddenly, like a sledgehammer, I was hit by 9/11. And I became completely addicted to the news." She explained how that changed her acting and magazine publishing plans while in college, saying, "It suddenly dawned on me that I felt I had a calling — that I wanted to contribute to this broader effort to try to act as some kind of a translator, almost, between different worlds."
According to Ward's CNN bio, she then became an intern for the network's Moscow bureau in 2002. From there, she got a correspondent job at Fox News, where she reported in the Middle East on Saddam Hussein's 2007 execution. After landing a job with ABC News, where she was first based in Moscow and Beijing, before traveling to Japan to cover the earthquake and tsunami of 2011, she became a regular presence on CBS News' "60 Minutes," before heading back to where she started — joining CNN as a foreign correspondent in 2015 and being promoted to the Chief in just three short years.
It's clear that Ward has followed that call to journalism and worked her way up to the top, though she admittedly "really had very little idea of what that would actually entail" back in 2001.
She's traveled to dangerous parts of the world for work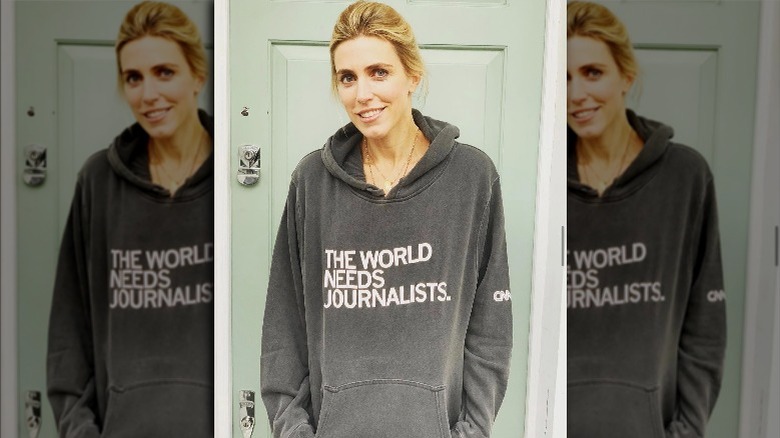 As part of her job as a foreign correspondent, Clarissa Ward has had to travel to dangerous parts of the world where her life was frequently put at risk. According to her CNN bio, this even included a Peabody Award-winning "undercover" assignment in 2016 in "rebel-held areas in Syria — where almost no Western journalists had visited in over a year."
"Syria is definitely the first conflict that I covered where I became deeply personally involved," she later told NPR, before going on to explain how traveling to countries where people are suffering does weigh heavily on her. "You get into the trap of finding it difficult to separate once you go back to your normal life and feeling that you need to be somehow altering the course of events."
Yet, Ward has continued her work for CNN, reporting from the front lines in countries like Iraq, Afghanistan, Yemen, Ukraine, Georgia, and Iran. It appears that if there's somewhere that's deemed unsafe to be, Ward will most likely show up there on the grounds to tell you about it. But when it comes to her journalistic work, she explained to NPR that she's learned that while "it's important to have good intentions," adding, "When you set the bar that high for yourself, it becomes a little bit soul-destroying when you realize that there are huge, powerful forces at work in the world, and you are limited in changing the course of history." Ward continued, "And that's OK because your job is to bear witness."
She's been accused of 'parachute journalism'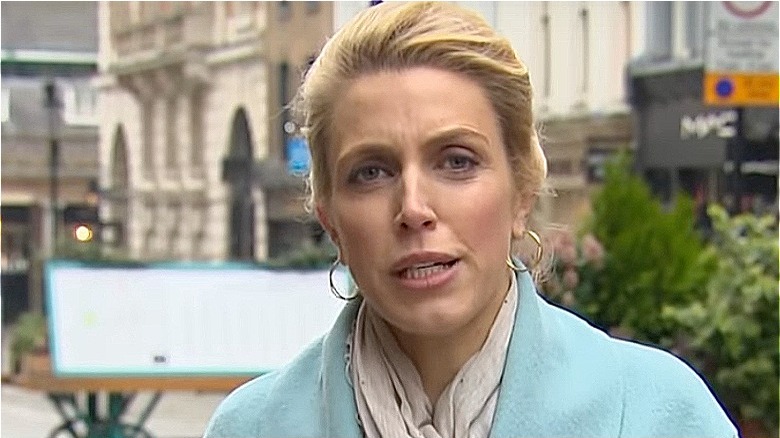 Although Clarissa Ward has quite the impressive resume, she has often been accused of being a "parachute journalist." For those unfamiliar with the term, it describes an "outside journalist," who "is unlikely to have a sufficient feel for the area's political and cultural landscape," according to the Columbia Journalism Review.
Ward was criticized in particular for her 2021 reporting from Myanmar, which was made possible by the nation's controversial military junta. What rubbed people the wrong way, according to the Thai Enquirer, was CNN's promotion of what it called "exclusive access," combined with Ward's "claim that she was the only international correspondent reporting 'on the ground.'" The latter apparently felt dismissive to the local journalists, who were also facing grave danger to report on the situation. Additionally, Thai Enquirer blamed Ward for "the arrest of 11 Myanmar nationals," who then possibly "face[d] torture or execution," claiming their detention was a direct result of her and her crew's interactions with them.
CNN later claimed that "at least eight" of those 11 had been released, with the Toronto Star reporting days later that all 11 "eventually were released." Meanwhile, Ward headed to Twitter to defend the trip, slamming what she called "a handful of white male academics/ commentators" for writing "endless screeds about how offensive [her] trip is to the people of Myanmar."
She reported on the frontlines of Taliban-controlled Afghanistan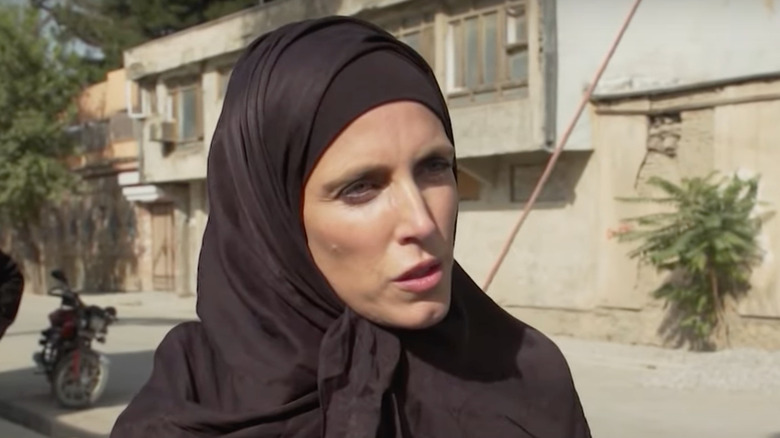 In August 2021, CNN's Clarissa Ward was back in Afghanistan to report on the Taliban's control of the country in the wake of U.S. troop withdrawl. Ward described to Slate that for the people in Kabul, "One of the most pronounced [reactions]is fear. I've spent a lot of time today talking to people who are petrified, who are in hiding, who don't want to leave their houses."
Ward also revealed how reporting there had changed since the Taliban took control. She explained, "Before, when you were operating inside Kabul, you have the government, and you knew the Taliban was in the background and they were dangerous." She added, "Now there's one sheriff in town, and it's the Taliban. And for this brief moment in time...the Taliban says that they are open to journalists doing their work and being here." Yet Ward did emphasize that there's "a consistent stream of gunfire" near the airport where U.S. troops are stationed. She added, "It's very dicey, it's very dangerous, it's completely unpredictable. There's no order, there's no coherent system for processing people."
Ward shared how the experience in Afghanistan has impacted her, writing on Instagram, "Reporting on the streets of Kabul in the wake of the Taliban's takeover has been one of the most extraordinary experiences of my career. I am too sleep deprived to begin to do justice to it with words but let's just say that every once in a while as a journalist, you get a front row seat on history."
She and her producer were almost attacked by the Taliban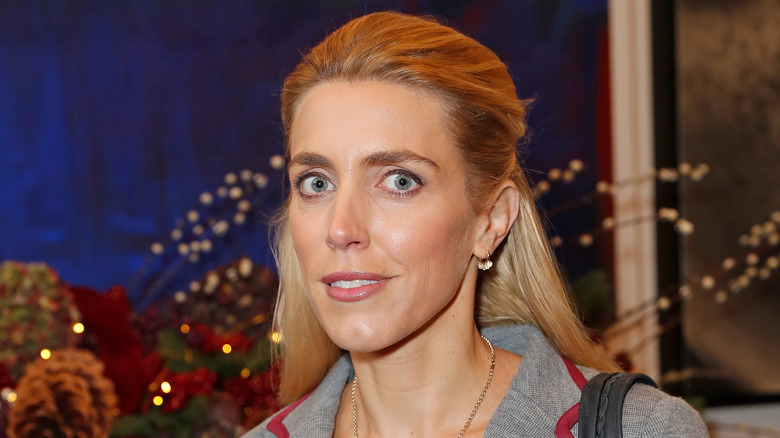 Being the Chief International Correspondent for CNN does come with many risks since you must travel where the news is despite the dangers that are there. Clarissa Ward experienced this in Afghanistan in 2021 after the Taliban took control of the country. She detailed a particular dangerous situation (via the New York Post) that happened outside the Kabul airport, explaining how a Taliban fighter armed with a "huge makeshift whip" approached her while "shouting at me to cover my face."
Ward also shared a scary incident that happened right after that to one of her producers who was attempting to take a video of it all. She told "New Day's" Brianna Keilar about how "Two Taliban fighters just came up with their pistols, and they were ready to pistol whip [our producer]. We had to intervene and scream... I've covered all sorts of crazy situations. This was mayhem. This was nuts."
Ward continued to explain that she and her producer managed to escape serious harm only when another insurgent stepped in because he realized that they were journalists. She added, "Honestly, to me, it's a miracle that more people haven't been very, very seriously hurt." While constantly facing physical danger must take a toll on Ward personally, it's safe to assume that Ward's family may struggle with her career as well in that they never know what the day could bring.
Clarissa Ward is married to a German Count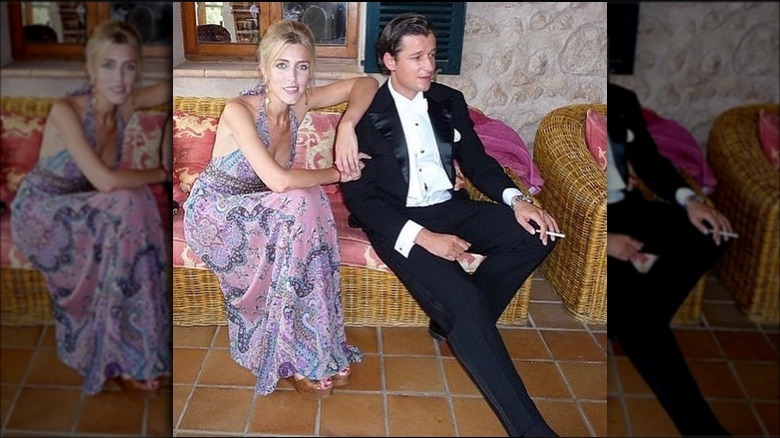 Although Clarissa Ward is often traveling the world with her CNN team, she does have a man waiting for her back home. And even though Ward is clearly a well-known TV personality, her husband, Philipp von Bernstorff, is pretty impressive himself in that he's a German count and a businessman. According to Town & Country, their meet-cute happened "at a dinner party in Moscow in 2007." As Ward recalled in "On All Fronts," after he learned what she does for a living, von Bernstorff said, "I think war correspondents are egomaniacs." And how did she take that? "I laughed out loud," she wrote. "It was immediately clear to me that there was something different about Philipp."
In November 2016, Ward and von Bernstorff tied the knot in a quaint affair at Chelsea Old Town hall in London, where they reside. The reception was similarly unpretentious, consisting of "lunch at their Notting Hill home for just 46 guests," reported Town & Country.
At the time, Ward admitted how her job made her not stress the big day. As she told Town & Country, "Perhaps covering war does give you a slightly different perspective. In the grand scheme of things to freak out about, this is not one of them." She did gush though how emotional it was for her to marry von Bernstoff. She said, "I was weeping so much, but in a beautiful way. I mean not that I looked beautiful but that it was a happy kind of weeping."
Clarissa Ward is the mom of two little boys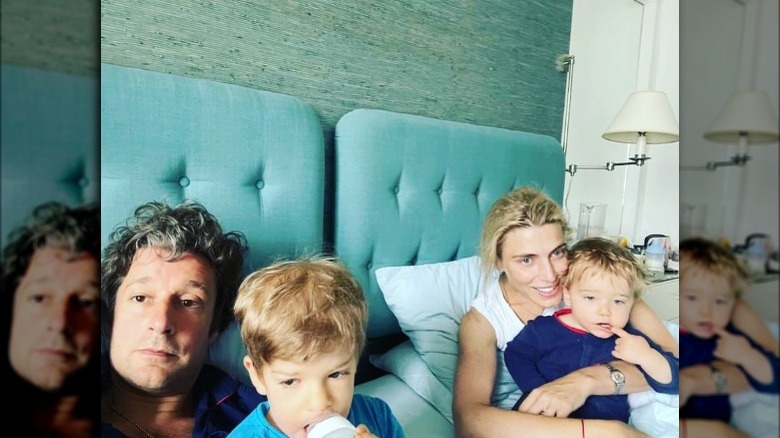 Clarissa Ward isn't just the Chief International Correspondent for CNN, she also has the super important job of being a mother. Ward has two sons, Ezra Albrecht Nikolas Nour von Bernstorff, who was born in March 2018, and Caspar Hugo Augustus Idris von Bernstorff, who was born in July 2020. According to Ad Week, during Ward's first pregnancy she still reported from places like Yemen, Bangladesh, St. Maarten after Hurricane Irma and Greenland, where it was -27 degrees. She told Elle, "I didn't want pregnancy to change the way I worked or lived." But recalled whispering in Greenland, "Dear God, please let my baby be okay. Please don't let the cold or the altitude hurt him."
Ward revealed to NPR how becoming a mother has changed her work after all. She explained, "There's this intense emotional connection that I cannot turn off now. It was always upsetting to see a child in pain in any kind of a conflict arena. Now I find it borderline unbearable." She continued, "I will weep. I hope there is more compassion in my reporting."
While it's clear Ward's career of traveling the world is important to her, it appears she's always happy to be reunited with her family. In June 2021, the CNN correspondent posted a photo on her Instagram (shown above) of her snuggling in bed with her husband and children, where she wrote in the caption, "No better feeling in the world than being back with my boys after a big trip."
She's worth millions but just wants a good moisturizer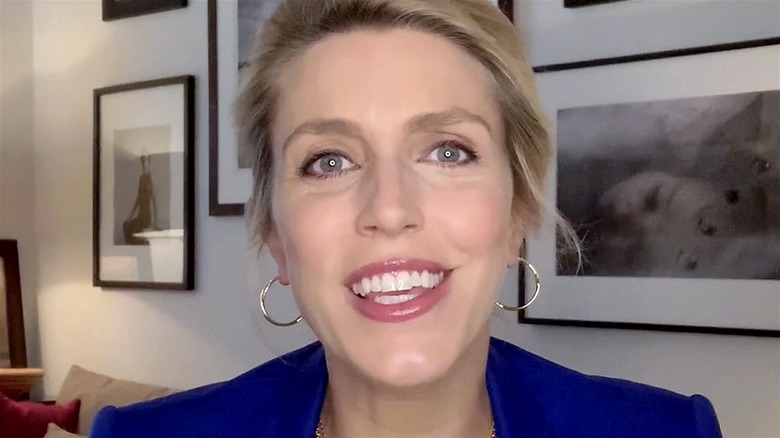 It appears that Clarissa Ward's high pressure career does have quite the pay off. The mom of two is the Chief International Correspondent for CNN, which undoubtedly comes with an impressive salary. Ward also landed a book deal which resulted in her memoir, "On All Fronts," which probably wasn't a bad side hustle for the journalist, who brought in another income through the book's sales.
As of this writing, unconfirmed reports peg Ward's estimated net worth at $2.3 million. It's unclear if that figure is just from Ward's work alone or includes her husband's finances as well. It's safe to assume that as a German count, Philipp von Bernstorff probably comes from money. He works in the often lucrative field of finance as "a fund manager," per Politico.
So how does Ward spend her millions? Apparently on fancy face cream. She told Financial Times that her "secret indulgence" is a $140 moisturizer. She revealed, "No matter how long or frightening or ugly my day has been, I find an almost meditative tranquility in the ritual of...applying my special cream." Yet Ward doesn't appear to be in it for the money or the special creams, but to bring attention to the world's issues. She told Slate in 2021, "What's happening in Afghanistan matters. What's happening to these people matters. And we're a part of it. So it's good to see that people are engaging."
Ted Cruz took to Twitter to criticize Clarissa Ward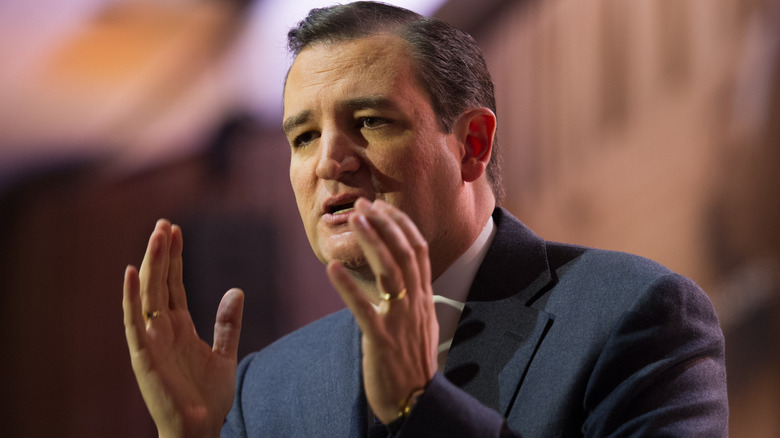 While Clarissa Ward is usually the one reporting the news, she made headlines in August 2021 after being criticized by Texas Senator Ted Cruz. Cruz had tweeted an eight-second clip of Ward reporting on the ground in Afghanistan during the Taliban takeover. In the video, she tells the camera, "They're just chanting 'death to America,' but they seem friendly at the same time. It's utterly bizarre." With that clip, Cruz then wrote, "Is there an enemy of America for whom @CNN WON'T cheerlead?" and adding, "(In mandatory burkas, no less.)"
The CNN communications team apparently decided to stick up for their Chief International Correspondent. They responded to the senator, tweeting, "Rather than running off to Cancun in tough times, @clarissaward is risking her life to tell the world what's happening. That's called bravery." They added, "Instead of RTing a conspiracy theorist's misleading soundbite, perhaps your time would be better spent helping Americans in harm's way." The latter tweet seemed to be a reference to Cruz's Cancun scandal where the senator was criticized for traveling to Mexico for a vacation while his constituents went without water or heat for days during a deadly storm.
Ward won't let his tweet get to her, telling Slate she just wants to "keep the focus right now where I think it should be, which is in Afghanistan and the Afghan people." She added, "Anything that's a distraction from that, or that minimizes that in some way, I try not to pay it too much attention."
Clarissa Ward has experienced misogyny throughout her career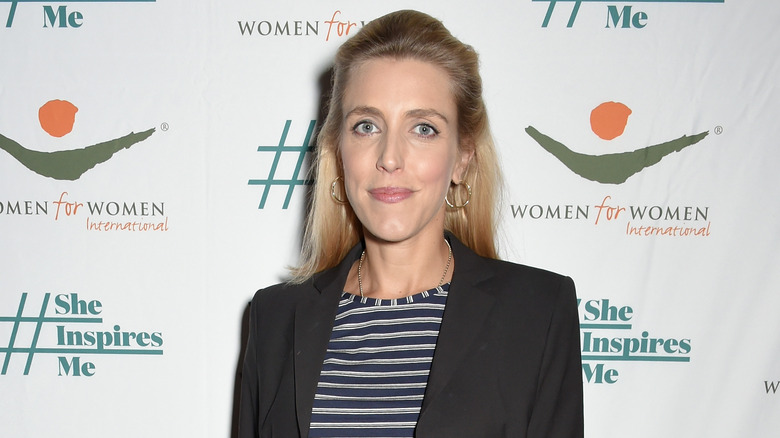 Unfortunately like a lot of other women, even Clarissa Ward has had to deal with misogyny in the workplace despite being a leader in her career field. "I can't tell you how many times I'll be feeling that, I know my trade. I know my craft. I know this story...It's this very subtle condescension," Ward explained on NPR. "And it is enraging because you're like, wait. But I'm the one who's actually been to Aleppo, guys."
And it sure sounds like it is something that Ward has dealt with in her career for a long time. As she recalled in "On All Fronts," a female anchor at Fox News once offered her some unsolicited and questionable advice: "You're gonna be a star. And trust me, I know Roger Ailes... he loves girls to wear their hair down. ... I know he'd prefer it. Gotta look out for you sexy girls!!" As NPR pointed out in their review of the book, that is the same Roger Ailes who would be "hit with multiple sexual misconduct allegations and resigned from the company."
She's also faced sexism while out in the field. In August 2021, she shared on CNN's "New Day" that while outside the presidential palace in Kabul, she was instructed "to stand to the side because I'm a woman." Yet, Ward doesn't seem to let anyone stop her from covering a story, making her a truly inspiring journalist.