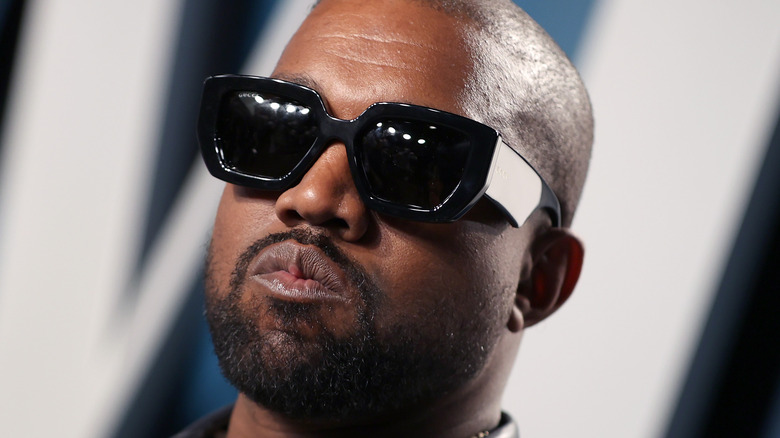 A divisive figure in pop culture, Kanye West is known for both his impressive music career and high-profile personal life. As a rapper and producer, his works have varied from the critically underwhelming to the masterful. For example, Pitchfork considered West's "My Beautiful Dark Twisted Fantasy" as the second best album of the 2010s — and that was just his personal project. West's collaborative album with Jay-Z, "Watch the Throne," landed within the list's top 100 albums for the decade. And West was behind the scenes for other signature albums during this time, ranging from artists like Bon Iver to Pusha T.
For all of this, Billboard ranked West as the sixth best music producer of the 21st century, as he helped create major hits for Jay-Z, while also developing a signature style of "pitched-up soul samples over knocking beats" in the 2000s and later becoming an early adopter of Auto-Tune. By 2021, West had 10 solo albums under his belt: In support of his tenth record, "Donda," he held much-hyped preview parties, per Rolling Stone, even though many fans weren't happy with its repeatedly delayed release.
In his personal life, West has made waves with controversial comments and actions. Whether involved with politics, feuds with other musicians, or famous love interests, this multi-talent is often in the news cycle. But let's dig deeper and lace up our Yeezys for a walk through the untold truth of Kanye West.
Inside Kanye West's upbringing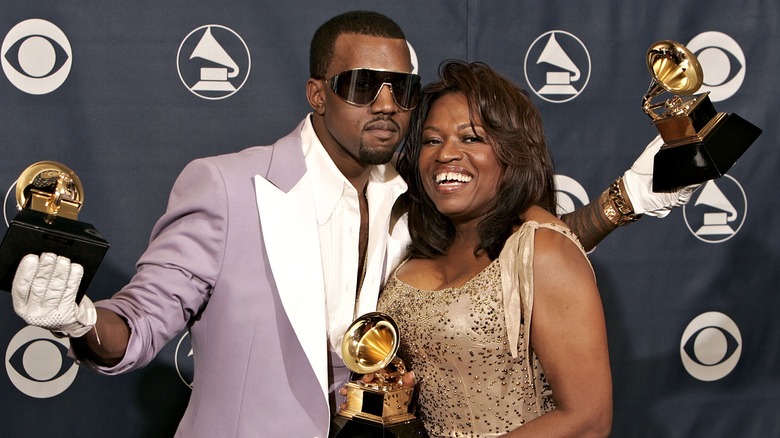 Kanye West was born in Atlanta, Georgia to Dr. Donda West and Ray West. Kanye's dad, Ray, was "a former Black Panther who became an award-winning photojournalist," as well as "one of the first Black photojournalists at the Atlanta Journal-Constitution," the Chicago Tribune reported. But the artist's parents weren't together long and officially divorced when Kanye was three years old. Per Interview, the future star's English professor mother nabbed a job in Chicago, and moved there with her son, where she raised Kanye as a single mom.
In a 2007 MTV special called "All Eyes on Kanye West," the musician recalled his earliest years and his relationship with his parents. After the move to Chicago, he said (via MTV News), "I would go visit my father on Christmas during breaks and the summer. But the rest of that time, my mother was my everything, if you're a child. That's my everything."
As a young boy, he showed affection to his mom in any way he could. According to Donda, when Kanye was old enough to have a little bit of money, he spent it on a gift for her. "He was ten and bought me some little red Isotoner house shoes," she told Jet magazine. Carrying on this tradition, right before the release of his 2004 debut album, "The College Dropout," Kanye gifted his mom "a diamond Rolex" watch for Christmas. "I still wear it to this day," Donda said at the time of the interview.
The rapper's education history led to some 'hard' life lessons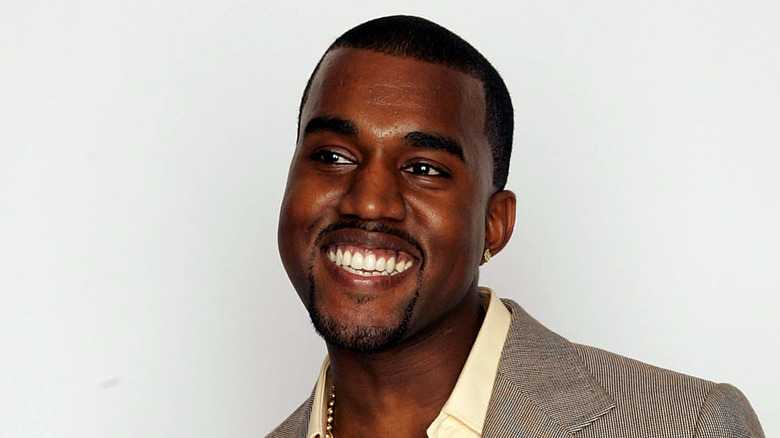 Growing up with a mom who was a teacher allowed for Kanye West to have a unique childhood experience abroad. In 2007, Dr. Donda West explained to Jet magazine that she and a young Kanye were expats for a year "because [she] was a foreign expert to the People's Republic of China, teaching English."
Reflecting on his early academic career, Kanye admitted in a 2005 concert for high school students (via MTV News), "I got A's and B's [in high school]. And I'm not even frontin'." But during this time, he was only interested in a few subjects, saying, "I didn't go for math class, I went for gym, for lunch, for art." But when it came time for higher education, West pursued a similar path to his mother: He attended Chicago State University and majored in English, per Jet. However, "The College Dropout" artist ultimately, well, did just that to pursue his music career.
"When I dropped out of school I had worked in the music industry and had checks cut in my name from record labels and had a record deal on the table," Kanye explained to high schoolers during that same appearance, before sharing what the life lessons he learned when things didn't go exactly as planned: "When I wasn't successful and Columbia said, 'We'll call you,' I had to go back and work a telemarketing job, go back to the real world, and that's how life is. Life is hard. Take advantage of your opportunities."
The origins of Kanye West's musical endeavors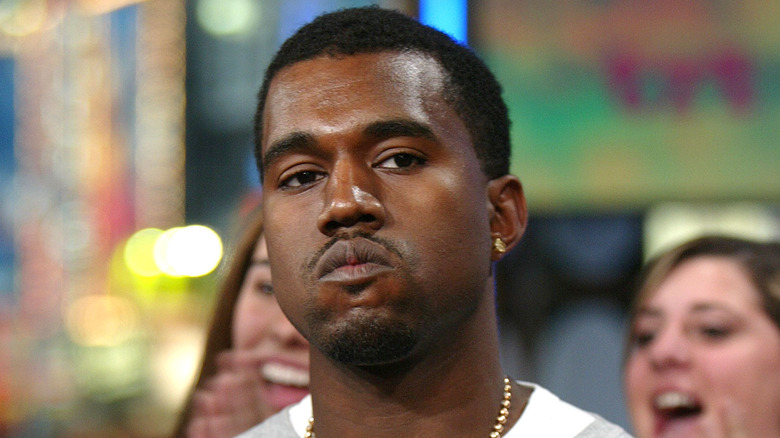 Kanye West's mom, Dr. Donda West, could remember the moment she saw an artistic side to her son. When she was driving with a five-year-old Kanye, she later told the Chicago Tribune, "He composed a poem in the back seat." The future star impressed his English teacher mother with the line, "The trees are melting black." As she explained to the outlet, "It was late fall, and the trees had no leaves. ... He described them the way a poet would."
As a teenager, Kanye moved on from poems to writing rap songs, with the outlet noting, "At 13, he co-wrote a rap called 'Green Eggs and Ham' and persuaded his mother to pay $25 for an hour of studio time." In an interview with Redeye (via the Chicago Tribune), Donda recalled taking her son to a "little basement studio," where "the microphone was hanging from the ceiling by a wire hanger." She added, "But he was so excited, I couldn't say no."
Kanye soon became engulfed in making music, with The Guardian detailing how the teen "barricaded himself in his room for weeks at a time to work on songs and rhymes." He later "began pestering" one of the best beatmakers in Chicago around that time, producer No I.D. — who happened to be the son of one of Kanye's mom's pals — "at all hours, even camping out in his driveway until he came home," the outlet noted.
How he moved from behind-the-scenes producer to popular rapper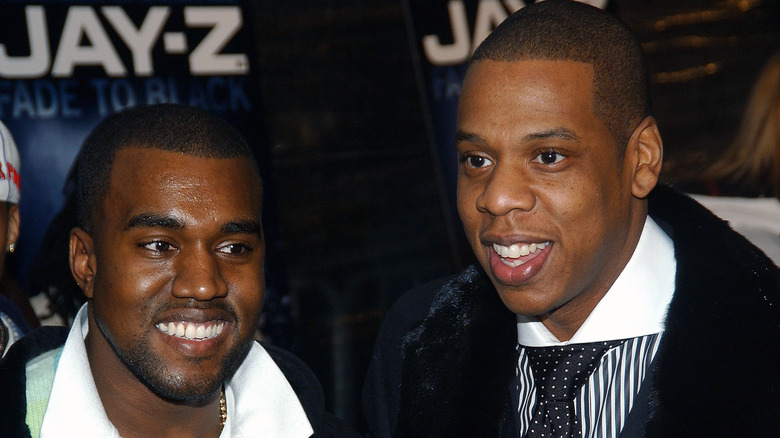 Even though Kanye West is proud of his Chicago heritage, his music career started mostly on the East coast. He and his mother, Donda, moved to Newark, New Jersey after the aspiring rapper was evicted from his residence in The Windy City. His song, "Last Call," from his first album, "The College Dropout," would later detail the story of driving a U-Haul with his mom across the country. While in The Garden State, West set up his musical equipment, and the first beat he created went on to become Jay-Z's "Heart of the City (Ain't No Love)."
Yeezy didn't know Hova yet when he created the instrumental — but they would soon make a connection. West began working at Baseline Studios, a New York City recording studio "known as the musical home of [Jay-Z's record company] Roc-A-Fella Records from 2000 to 2003," according to Complex. While West provided beats for rapper Beanie Sigel at the studio, the rap legend stopped by. "Jay walked in. I remember he had a Gucci bucket hat on," West recalled of Jay-Z on "Last Call" (via Genius). Though West admitted that he intended for the "Heart of the City" beat to be for rapper DMX, he played this and multiple other beats for Jay-Z, anyway. As West remembered it, Hova loved the songs so much that he "made one of them faces like 'OOOOOOOOOOH.'"
According to Rolling Stone, West would ultimately produce four songs on Jay-Z's masterful album, 2001's "The Blueprint," including the incredibly catchy tune, "Izzo (H.O.V.A.)."
The accident that changed Kanye West's life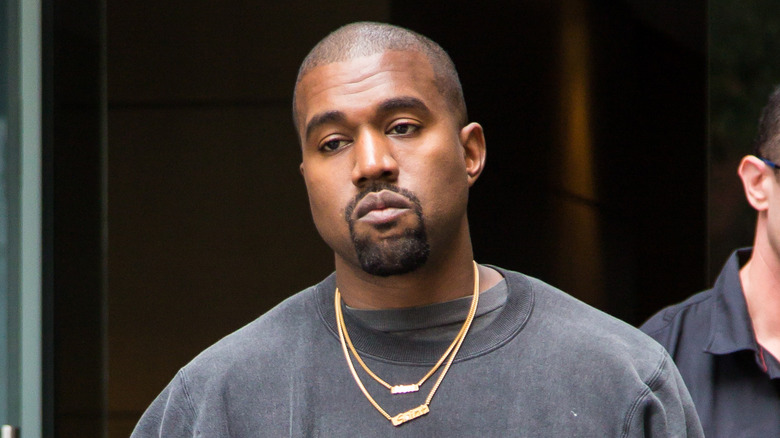 Thanks in part to his success in producing songs for Jay-Z and other artists, Kanye West was recruited by Capitol Records. Sadly, the deal fell through, leaving West on the open market. But while Roc-A-Fella records saw potential in West and signed him as an artist, just weeks after signing the contract, the aspiring rapper nearly lost his life.
Back in 2002, MTV News reported that West became injured in a car accident "after leaving a recording studio at about 3 a.m." in Los Angeles. He, of course, thankfully survived the serious accident, but fractured his jaw. According to the report, this injury required his jaw to be "wired shut" for six weeks. Per Rolling Stone, details about the rapper-producer's accident were later released: "[West] falls asleep at the wheel of his rental Lexus, crashing into an oncoming car. The other driver breaks both his legs; Kanye's jaw is shattered."
During his recovery, West described the life-threatening event in a song that would become his debut album's lead single, "Through the Wire." Its music video shows photos and videos of the accident's aftermath. According to the intro, West even rapped and recorded the tune while his jaw was still wired shut. In an interview for Jet, West's mom talked about one of the positives that came out of West's jaw injury. "He said one thing the accident did for him was eliminate all fear," Dr. Donda West explained.
The details of the musician's first engagement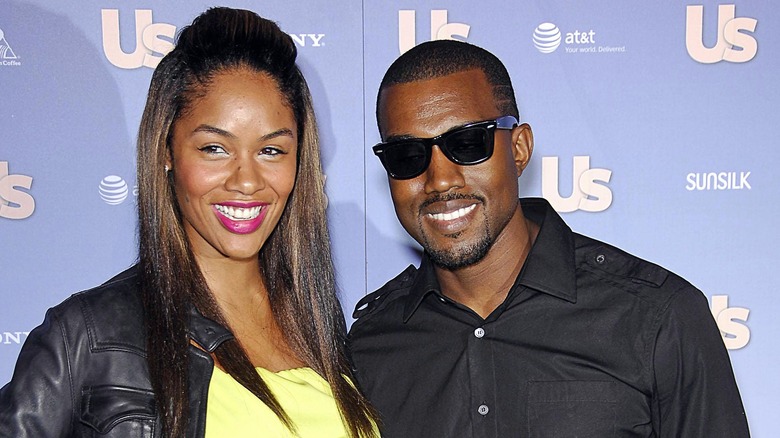 The same year as his car accident, and before becoming a well-known rapper and producer, Kanye West started dating Alexis Phifer — a fashion designer who went to school at the Fashion Institute of Design and Merchandising in Los Angeles. West's mom, Dr. Donda West, positively talked about her son's girlfriend in an interview with Jet. "She is wonderful. She is beautiful, brilliant, and very accomplished in her own right," Donda said, noting that Phifer's design specialty was dresses.
Four years after West and Phifer started dating, the rapper proposed to his longtime girlfriend. As reported by People, the pair "got engaged over a lobster and pasta dinner during a vacation on the island of Capri in August 2006." But in 2008, news came out that West and Phifer were breaking up before ever getting married. According to a source, they reportedly "hit a rough patch and for now they've split." Speculating that part of the issue might have been West's intense focus on his "Glow in the Dark Tour," the insider added that West was "putting everything into the show right now." As for his former fiancée, the source noted, "Alexis is a nice girl, but Kanye has been going through a rough time."
"It's always sad when things like this end, and we remain friends," Phifer stated to People at the time. "I wish him the best in his future and all of his endeavors. He's one of the most talented people I've ever met."
The rise and fall of Kanye West and Kim Kardashian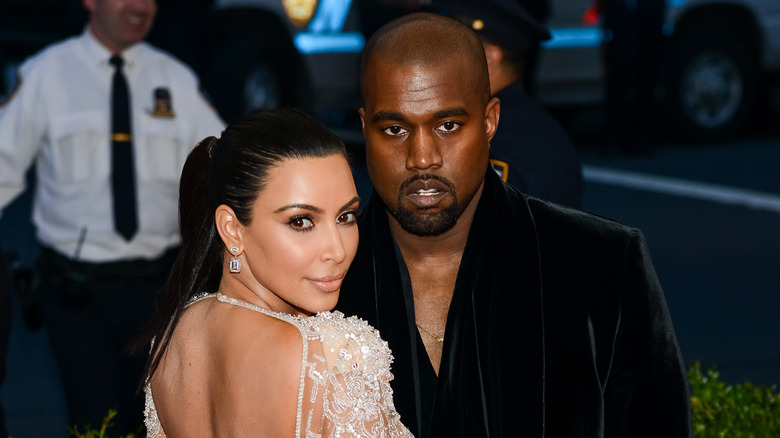 Kim Kardashian and Kanye West were a true Hollywood power couple — heck, they even had a couple nickname, Kimye. Though it took some years for these two to become official, they actually crossed paths early on in their careers. "I met him I think in 2002 or 2003," Kim recalled on the 10th anniversary special for "Keeping Up With the Kardashians" (via Us Weekly). Explaining how West was working on music with their mutual friend, musical artist Brandy, she joked that "he didn't know what my name was."
Both had high-profile significant others after the initial meeting — for example, Kardashian with Kris Humphries and West with Amber Rose — but they stayed friendly during this time and met again to work on a pilot called "Alligator Boots." Kardashian noted, "I would say this is when we first really connected." Kimye began dating in 2012. By the next year, they welcomed their first of four kids together, and West proposed. In May 2014, the pair married in Florence, Italy.
Unfortunately, their relationship appeared to seriously unravel in 2020 amid West's controversial run for president, during which he made plenty of headline-making remarks, including sharing private details about his and Kardashian's relationship in an anti-abortion rant at a rally (more on that below) and making shocking claims against Kardashian and her momager, Kris Jenner, on Twitter. That December, a source cited by Us Weekly claimed Kimye "had a big fight" and had "been living separate lives for many months." In February 2021, Kardashian officially filed for divorce.
Inside Kanye West's life as a father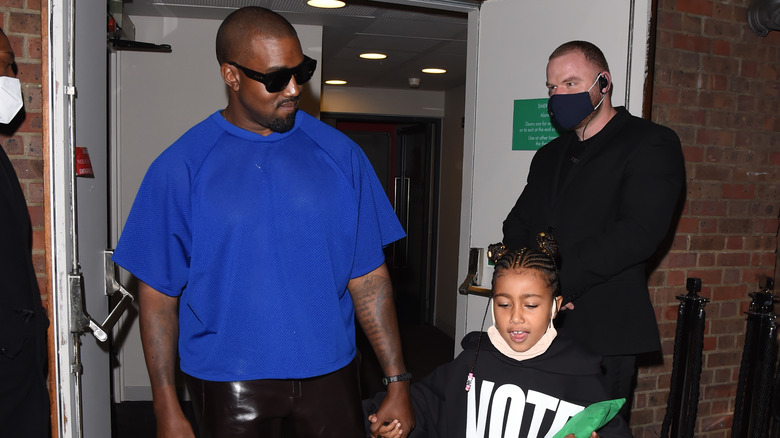 During a 2013 interview with The New York Times, Kanye West shared his thoughts on parenthood. As a father, he said, "I would do anything to protect my child or my child's mother." But the rapper also confessed, "I've not fully developed those thoughts yet. I don't have a kid yet."
This changed the same year, however, as he and then-girlfriend Kim Kardashian announced the birth of their first child together, daughter North. While the proud dad later talked affectionately about the impact of becoming a father with Paper, saying, "When I look in North's eyes, I'm happy about every mistake I've ever made," he also infamously (and controversially) revealed in 2020 that he'd initially encouraged Kardashian to get an abortion. During a political speech in South Carolina, West claimed (Us Weekly) that Kardashian "brought North into the world even when [he] didn't want to," adding, "She stood up and she protected that child." According to an emotional West, "I almost killed my daughter."
After North, a then-married West and Kardashian had their first son together, Saint, in 2015, before welcoming two more kiddos via surrogate: daughter Chicago in 2018 and son Psalm in 2019. Though the two made the shocking announcement to divorce in 2021, they have appeared to remain supportive as parents, agreeing to joint custody. According to a source cited by People that July, "[West] is keeping things amicable with Kim so the kids can be happy. They have been spending time together as a family."
That time he infamously interrupted Taylor Swift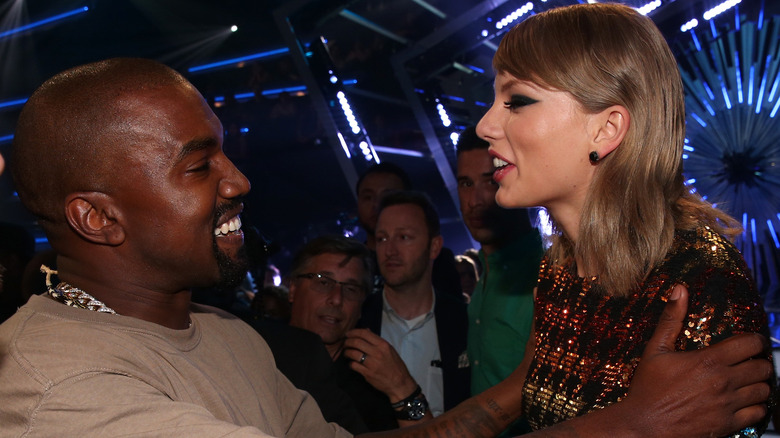 During the 2009 MTV Video Music Awards, Kanye West infamously stormed the stage, took a hold of the mic, and interrupted Taylor Swift's acceptance speech to say he felt Beyoncé's "Single Ladies" should have won the best female video award. In the aftermath of the shocking event, Swift revealed on "The View" that West hadn't "reached out" to apologize. But immediately following her appearance on the talk show, West reportedly called Swift and offered an "apology for stealing her moment," per TMZ. According to sources, Swift accepted this apology.
Years later, an interviewer for The New York Times asked West if his "instinct" had caused controversies like the VMAs incident. West responded, "It's only led me to complete awesomeness at all times. It's only led me to awesome truth and awesomeness. Beauty, truth, awesomeness. That's all it is." West also said he "[didn't] have one regret" about interrupting Swift on stage, going on to explain that his initial apology was due to peer pressure.
Despite the mixed apologies, West and Swift appeared to still be on good terms after his interview. Swift told Vanity Fair, "Kanye and I both reached a place where he would say really nice things about my music and what I've accomplished, and I could ask him how his kid's doing." In 2015, they even "had dinner together at Manhattan restaurant the Spotted Pig," The Guardian reported. That same year, Swift introduced West for the Vanguard Award at the VMAs, with the two embracing at the event.
Inside Kanye West and Taylor Swift's second feud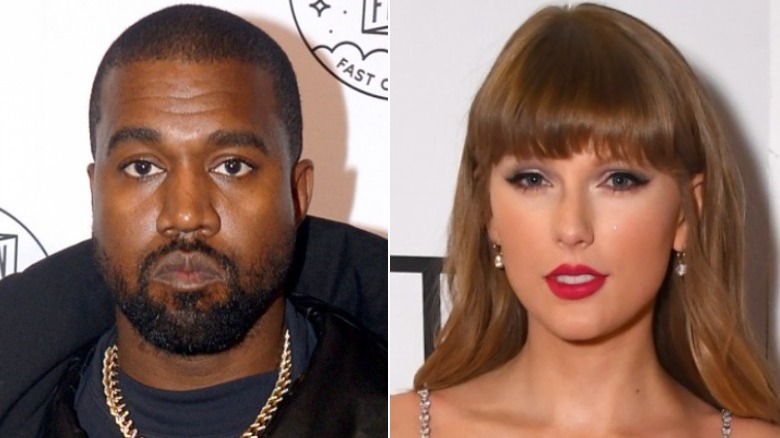 Taylor Swift and Kanye West's friendly relationship unraveled following the release of his 2016 song, "Famous," which featured the lyric, "I feel like me and Taylor might still have sex / Why? I made that b**ch famous."
West called Swift prior to dropping the tune to tell her "it has a very controversial line at the beginning of the song, about you," Vulture recounted. She wanted no affiliation with its release, but didn't seem to mind the original "tongue-in-cheek" draft of the lyric, "I feel like Taylor Swift might owe me sex." In the span of a few days, West released his album, "The Life of Pablo," with the formerly mentioned line (via Pitchfork) — then Swift's "1989" won album of the year at the Grammys. In her acceptance speech, she warned of people who "take credit for your accomplishments or your fame."
Kim Kardashian later joined the feud and claimed to GQ that Swift "knew that that was coming out," adding, "She wanted to all of a sudden act like she didn't." It also angered Kardashian to watch Swift's Grammys speech, where she allegedly "completely dissed [her] husband just to play the victim again." The TV personality then released a Snapchat video with edited clips of West's call, where Swift appeared open to the track. Per Vulture, "With the general consensus that she is a lying snake, Swift retreat[ed] from public life for more than a year."
However, when full footage from the call surfaced in 2020, it mostly exonerated Swift, who appeared uncomfortable with any insulting lyrics.
The love and tragic death of Kanye West's mother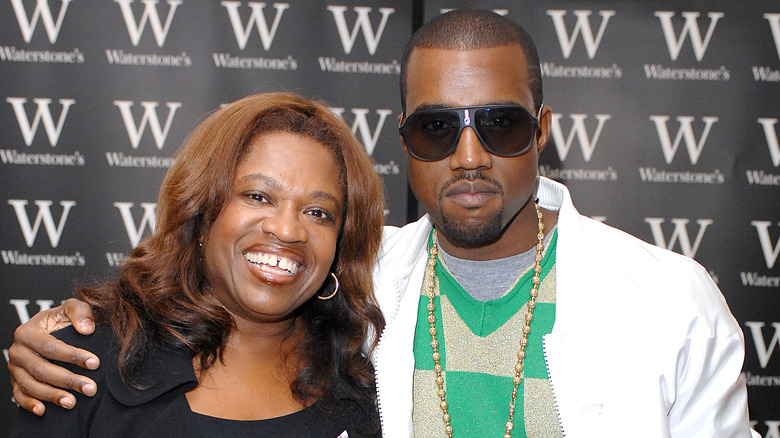 As previously stated, Kanye West shared a deep connection with his mother, Dr. Donda West, who primarily raised him. "I love her. She is my best friend in the whole world," he said on "Diary" in 2004 (via MTV News). While she supported his love of music early on, Kanye added at the time, "She was really my first manager. She's still my general manager." Of his "Hey Mama" song off of his sophomore effort, 2005's "Late Registration," the artist noted, "When she first heard it, she was crying." He was also sure to add how thankful he was for "all the stuff [his] mother has done for [him]," saying, "It makes me wanna call her."
Tragically, this sweet and supportive mother-son relationship came to a shocking end in 2007, when Donda died unexpectedly at age 58. As reported by MTV News, her death was caused by "complications related to cosmetic surgery," with the outlet noting that she "underwent several plastic surgery procedures without medical clearance, and her coronary disease and postoperative factors are believed to have contributed to her death."
As a result of Donda's untimely death, Arnold Schwarzenegger — California's governor at the time — passed a law to try and prevent similar tragedies in the future. In 2009, he signed the "Donda West Law," which "requires a physical examination before elective cosmetic surgery" in California, per the Los Angeles Times.
How this famous musician began exploring his fashionable side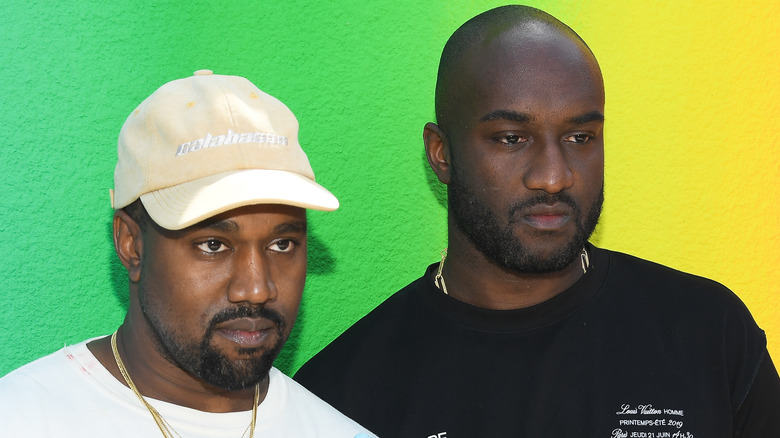 By 2008, Kanye West wanted to take a break from his career in the music industry and looked to work at a famous fashion brand. For example, he tried to work with designer Raf Simons — but was ultimately rejected. "I was blown away from the planet when he told me," Simons told The New York Times, adding, "I know he's very serious about this — I don't take it as a joke — but how can I imagine him being my intern? It's a very extreme situation."
However, West's request didn't come without qualifications, as he was already deeply involved in the fashion community. In addition to attending fashion shows, the rapper also ran a now-defunct blog on kanyeuniversecity.com, "where [he'd] often [spotlight] new brands ... and products well before many of the top magazines," per The Times.
West, of course, wasn't deterred by the initial rejection and ended up working for the Italian luxury fashion house, Fendi. He and Virgil Abloh both became six-month interns for the brand, and Michael Burke, who was the chief executive of Fendi during West and Abloh's time, revealed to The New York Times, "I paid them $500 a month! I was really impressed with how they brought a whole new vibe to the studio and were disruptive in the best way." While Abloh went on to become the artistic director for Louis Vuitton's menswear universe, West would build his highly lucrative Yeezy shoes and clothing line.
Kanye West's Parisian experience influenced his two biggest passions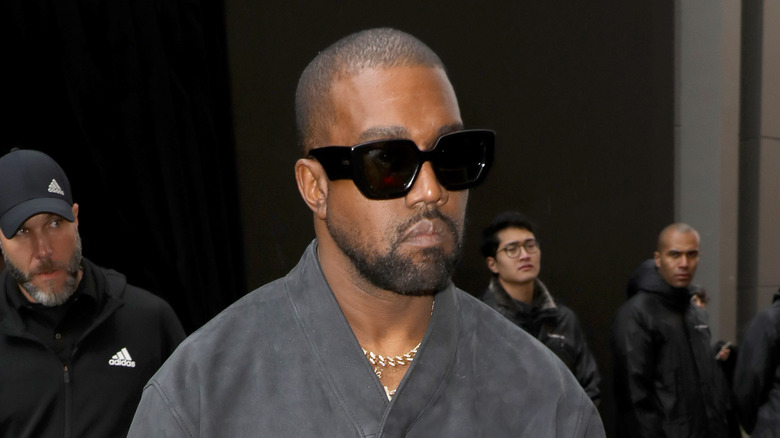 In 2010, Kanye West released his fifth album, "My Beautiful Dark Twisted Fantasy," a critically perfect effort, according to Pitchfork. Soon after, he moved to Paris to focus on fashion. During a flurry of more than 70 tweets, West revealed that he "opened a small design studio" in France in early 2011, Fashionista recounted. "The language barrier was quite difficult," he noted, before further explaining how it was tough to even get the fabrics he wanted for designing. "In Paris I met many great people in design including the master Azzedine Alaia," West added on Twitter, referencing the fashion designer. "This was the greatest feeling to stand in his presence in my embarrassingly small Paris studio."
In addition to his fashion endeavors, West also used his time in Paris to work on new music. In 2011, he released a joint album with Jay-Z called "Watch the Throne," which features their hit, "N****s in Paris." (Fun fact: They later worked their way up to breaking the "world record for the number of times one track has been played consecutively" by performing it a dozen times in a row at a Paris concert, per NME).
West also set up a studio in the middle of his living room to record his next album, 2013's "Yeezus." Basically? He flourished creatively in Paris, and later told W magazine that even though he found that "pleasant smiles" were rare there, "You can just trip on inspiration — there are so many people here who dedicate their lives to excellence."
Let's break down the rapper's complicated presidential relationships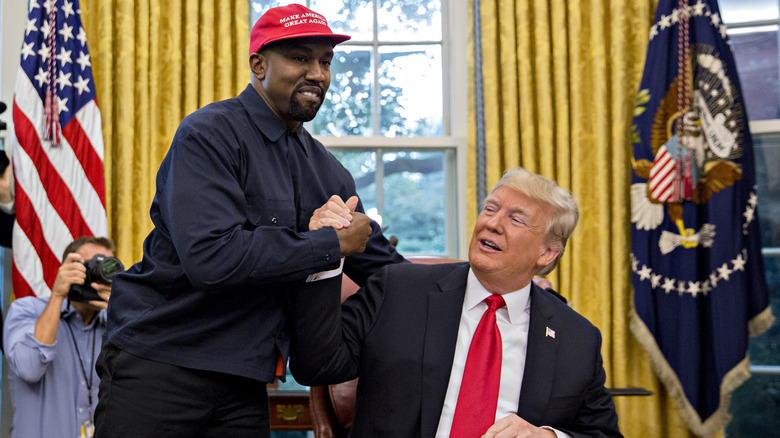 Perhaps more than any other rapper, Kanye West has been infamously intertwined with politics throughout much of his career. West's first shocking political moment came during a televised fundraiser event for those affected by Hurricane Katrina in 2005, when he looked at the camera and said, "George Bush doesn't care about Black people." The headline-making comment rocked the White House and deeply upset then-President George W. Bush, who later revealed in his memoir, "Decision Points" (via Entertainment Weekly), "The suggestion that I was racist because of the response to Katrina represented an all-time low [during my presidency]."
Meanwhile, the next U.S. president, Barack Obama, had a more direct opinion about West. After West crashed Taylor Swift's acceptance speech at the 2009 MTV VMAs, Obama infamously called the rapper a "jacka**," per Rolling Stone. However, things took a dramatic turn when West publicly showed his political affiliation during Donald Trump's presidency. In 2018, West tweeted in part, "The mob can't make me not love him. We are both dragon energy. He is my brother." Trump's response of "Thank you Kanye, very cool!" subsequently prompted countless memes (via Know Your Meme). That October, the rapper sparked outrage among fellow celebs and fans alike when he visited Trump at the White House while wearing a red MAGA hat.
Two years later, however, West denounced Trump, telling Forbes, "I am taking the red hat off, with this interview." He then ran for president in 2020 — but, just like his former presidential pal, obviously lost.
Kanye West also has a charitable side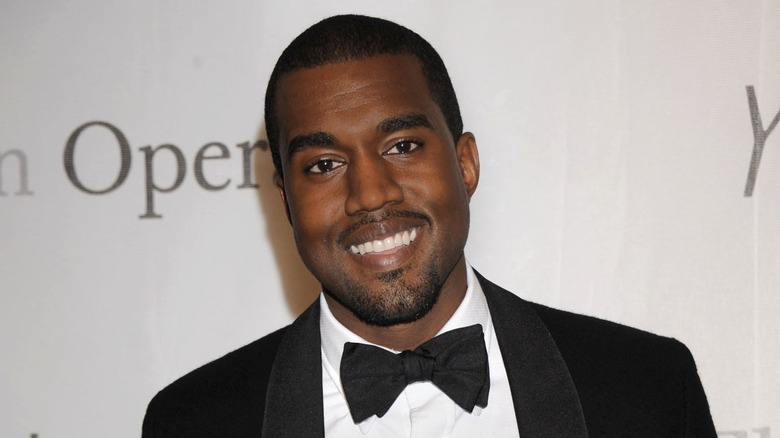 In 2011, Kanye West and fellow rapper Rhymefest co-founded Donda's House, a Chicago-based charity in honor of West's mother, per Vanity Fair. But in May 2018, the charity became conflicted with West's public image. After his support of then-President Donald Trump, Donda's House announced, as the outlet summarized, "that it wishes to distance itself from the rapper — and perhaps change its name." West's wife at the time, Kim Kardashian, also added to the negative press, tweeting at Rhymefest, "You better believe I will make it my mission to take Donda's House from you and let my children run it the way it should be run!"
Outside of the Donda's House issues, 2020 saw West donate $2 million dollars "to support the families of George Floyd, Ahmaud Arbery and Breonna Taylor," according to CNN. This included paying full college tuition for Floyd's young daughter, Gianna, as well as covering legal fees for "Arbery and Taylor's families, along with Black-owned businesses in crisis in his native Chicago and other cities."
That same year, West also made donations to organizations like the Dream Center in Los Angeles and the We Women Empowered in Chicago in order to help during the COVID-19 pandemic, People reported. "Today when I got that call, that Kanye West wanted to help the elderly in Chicago and he chose his hometown in the Southside, his old neighborhood, I was beyond words," Josephine Wade, the leader of the latter charity, told the outlet. "... All I can say is thank you, thank you, thank you."
How much is the multi-talented Kanye West worth?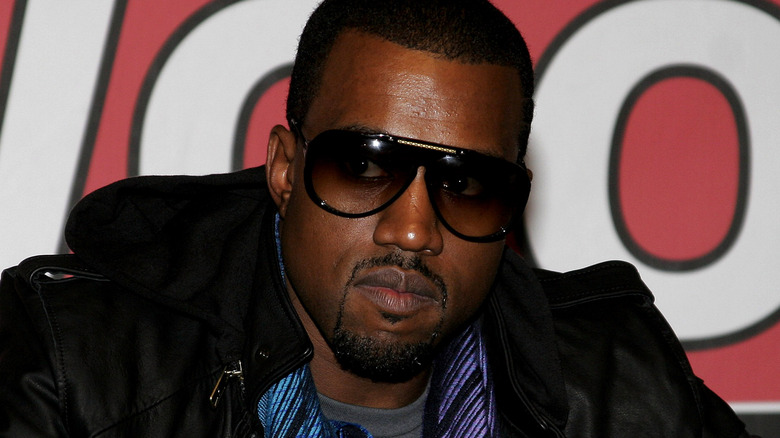 In addition to continuing his prolific work as a rapper and producer — including his 2021 solo album, "Donda," the announcement of another joint album with Jay-Z called "Watch the Throne II" (via Rolling Stone), and a series of 2018 production efforts dubbed the "Wyoming Sessions," per NME — Kanye West has also continued his work as a fashion titan with successful apparel and accessories businesses. In 2021, Bloomberg reported that his Yeezy line, plus a new collaboration deal with Gap, were estimated to be worth "between $3.2 billion and $4.7 billion."
Meanwhile, having announced big plans to invest in real estate, West already has around $120 million in real estate assets in California and Wyoming, though it's unclear where this figure will land amid his divorce from Kim Kardashian (via Forbes). Still, combined with his other ventures and revenue streams, this puts West's net worth at an estimated $6.6 billion, per Celebrity Net Worth.
West certainly enjoys the finer things in life. While living in Paris, for example, he reportedly purchased "rare Le Corbusier lamps, Pierre Jeanneret chairs, and obscure body-art journals from Switzerland," according to W magazine. He noted that these purchases were to satisfy his interest in "overall good taste" — or, in his own words, "To make Kanye West as dope as possible." But while it was reportedly important to West that people knew once he made it to billionaire status in 2020, he previously said (via Billboard), "For me, money is not my definition of success. Inspiring people is a definition of success."