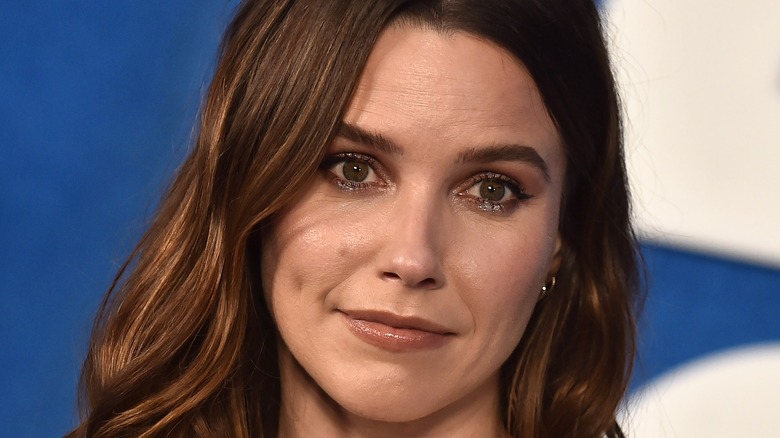 The following article contains references to sexual assault and mental illness
For many people growing up in the 2000s, "One Tree Hill" was a rite of passage. Although never as commercially successful as its main competitor, "The O.C.," there were innumerable aughties teens who were firmly Brooke Davis devotees as opposed to Summer Roberts stans. And the party animal-turned-girlboss was expertly embodied by Sophia Bush. While she has been immortalized as the 2000s pop culture icon — ultra glossy waves and enviable wardrobe included (who can forget that signature glitter blazer?), Bush has gone on to cultivate a successful dramatic career via "Chicago Fire" and "Chicago P.D."
But these days, the role that Bush is perhaps most famous for is that of an activist. From lending her impassioned support to the MeToo movement to her heartfelt, deeply personal stance on gun control, the actor has ardently campaigned for numerous worthy causes. This passion for social justice is reflective of her own lived experiences.
Indeed, much of the star's activism is born from her trauma. Accordingly, she has used her tragedy and loss to enable others. As Bush told Glamour, "I've built an incredible community of other activists across the country ... And on the hard days it's those people who remind me that this is a marathon and we are all running it together. That keeps me feeling activated and inspired." Now regarded as a role model for many budding activists, she survived some truly harrowing tribulations before speaking her truth. These are the tragic details about Sophia Bush.
Sophia Bush was sexually harassed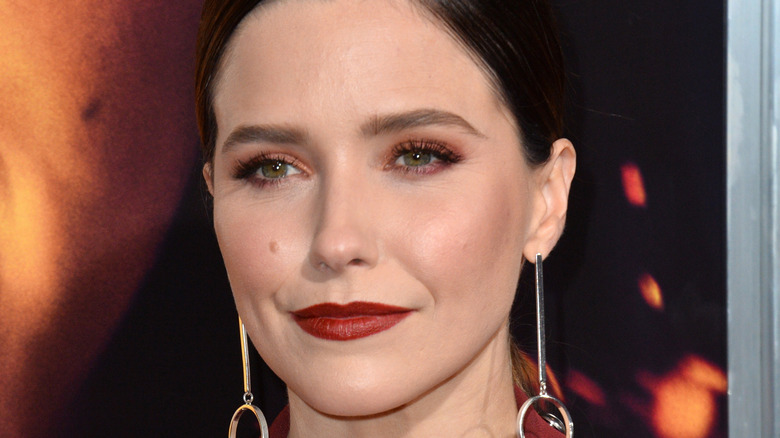 "One Tree Hill" remains the series that Sophia Bush is best known for. But the much loved drama, for all its relatable plots about angst and teen ennui, hid a dark side. In the wake of the MeToo movement, Bush — along with 17 other women who worked on the show — accused showrunner Mark Schwahn of sexual misconduct. As Variety reports, the 18 women signed a letter alleging that Schwahn engaged in psychological and emotional abuse, manifesting in PTSD for some accusers. They were warned against speaking out, told that doing so would cost many people their jobs.
During an appearance on "Pretty Big Deal with Ashley Graham," Bush revealed that she was also pressured into scenes that would require her to act in lingerie, something she refused to do. "I remember my boss kept writing scenes for me to be in my underwear," she recalled. "And I was like, 'I'm not doing this. This is inappropriate. Like, I don't think this is what we should be teaching 16-year-old girls to be doing.'" Additionally, she told Andy Cohen on "Radio Andy" that she smacked Schwahn for groping her buttocks.
Speaking with The Guardian, Bush said that she hoped telling her story would encourage other women to speak out, particularly those with regular jobs outside of the entertainment industry. As she told Insider, she has reclaimed her "One Tree Hill" trauma by maintaining friendships with co-stars Hilarie Burton and Bethany Joy Lenz, with whom she began the podcast "Drama Queens."
If you or anyone you know has been a victim of sexual assault, help is available. Visit the Rape, Abuse & Incest National Network website or contact RAINN's National Helpline at 1-800-656-HOPE (4673).
Sophia Bush was pressured into marrying Chad Michael Murray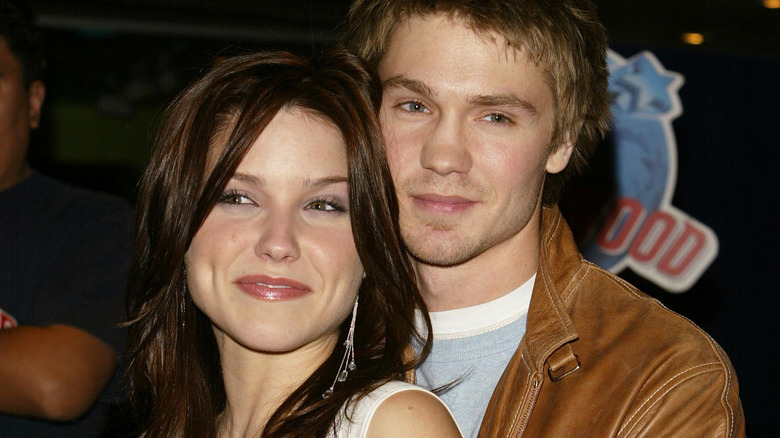 In 2005, Sophia Bush married her "One Tree Hill" co-star Chad Michael Murray. At the time, she was just 22-years-old, per The Spokesman-Review. But just one year later, the couple called it quits. "Sophia went into the marriage believing in the sanctity of marriage, and Chad simply did not share that vision," an insider told People at the time.
During an appearance on "Radio Andy," Bush confessed that she didn't actually want to get married at such a young age, but was pressured into it by "One Tree Hill" execs. "What's the fight? When you have bosses telling you that you're the only person who gets a person to work on time, and 200 people either get to see their kids at night or they don't because our days start on time?" she said. Murray branded Bush's claims "ludicrous" in a statement to Us Weekly.
As detailed on "Armchair Expert," the divorce was difficult on Bush because "One Tree Hill" showrunners exploited the couple's split for ratings and drama, something which she claimed they frequently did with regards to actors' personal turmoil. "They were really deeply inappropriate to both of us about it. They ran like TV ads about it," she said. "It was really ugly." In an essay for Cosmopolitan, Bush explained that she didn't want to be defined by her youthful marriage, but conceded that the experience was incredibly traumatic for her, particularly the way in which the breakup played out in public.
Her nine-year-old cousin was murdered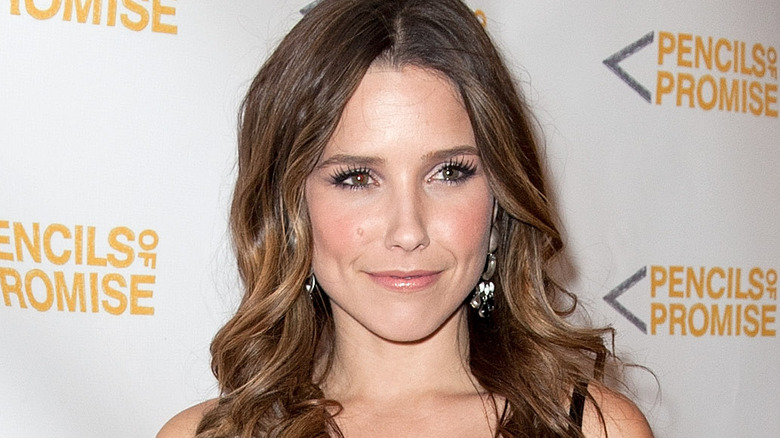 In 2011, the nation was rocked by the assassination attempt of congresswoman Gabrielle Giffords when a gunman went on a shooting spree outside a supermarket in Tucson, Arizona, per CNN. Although Giffords survived being shot in the head, six people were killed, including Sophia Bush's 9-year-old cousin Christina-Taylor Green, the youngest victim of the attack, per The New York Times.
Green's parents spoke of their anguish at never being able to see their daughter grow up. "One day we were a beautiful family of four, and the next day, we woke up, and we had three — with no real preparation, no warning, no nothing," her father, John, told AZCentral. "It jars every part of your life." Her family planned to create a memorial garden in her honor. Although Bush hadn't yet met her cousin, she was deeply affected by the loss. "I remember hearing when she was born ... We had always planned on going to visit them and see her because I hadn't seen them since her mother's wedding, and now we can't," she said on "Chelsea Lately" (via CBS News). "And you've gotta take every day and you've gotta tell the people you love that you do." In 2017, she disclosed on Instagram that she remained disturbed and infuriated by Green's murder.
After being remanded in custody, Green's killer, Jared Lee Loughner, chillingly smiled in court, as well as for his mugshot, per ABC News. In 2012, he was sentenced to life in prison without parole, per NPR.
Sophia Bush's ex-boyfriend died tragically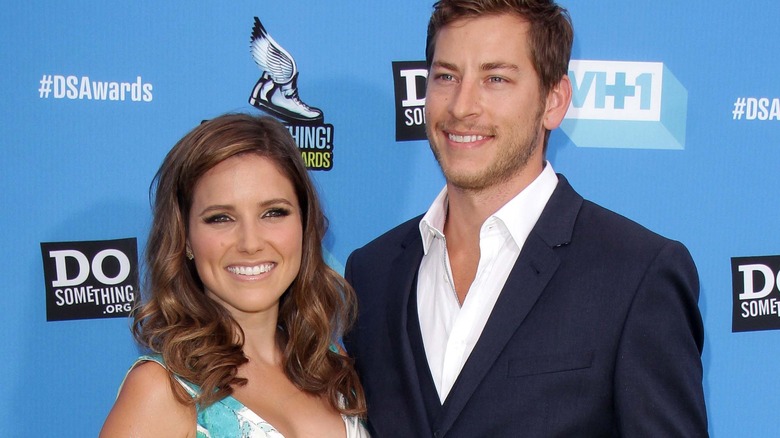 Sophia Bush began a relationship with Google engineer Dan Fredinburg in 2013. According to Us Weekly, the couple were super loved up and bonding over their shared interest in activism. After a year together, the twosome parted ways, but remained great pals, as a source revealed to People. Just one year later, tragedy struck when Fredinburg was caught up in a 7.8-magnitude earthquake, which triggered an avalanche, while on an expedition to Mount Everest, per NBC News. He sadly died, aged just 33. Eerily, he had survived another deadly Everest avalanche in 2014, with Bush tweeting that her beau was safe and sound.
Devastated by her former boyfriend's death, Bush penned a heartbreaking tribute to him on Instagram. "Today I find myself attempting to pick up the pieces of my heart that have broken into such tiny shards, I'll likely never find them all," she wrote. "Today I, and so many of my loved ones, lost an incredible friend." Describing her ex as one of her greatest loves, she lamented that she would never again get to hear tales of his expeditions.
She opened up about the loss in an interview with Health (via Us Weekly), in which she called Fredinburg one of her best friends. "I felt like my heart was on the outside of my body and everyone who came near me was stabbing me," she said. Bush added that Fredinburg's death had taught her how precious life is and the importance of treasuring every moment.
The actor was bullied and assaulted on the Chicago P.D. set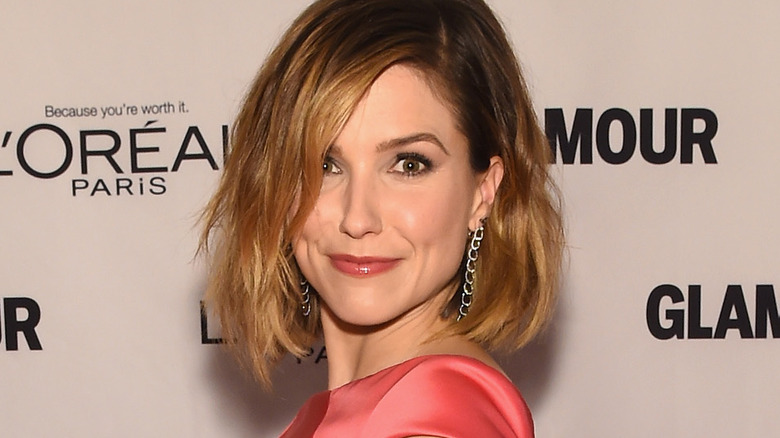 In addition to her ordeal on the set of "One Tree Hill," Sophia Bush was subjected to bullying and physical assault when filming "Chicago P.D." In 2017, Deadline reported that the show's star, Jason Beghe, was being investigated for misconduct on set. He apologized for being aggressive, admitting that he has an anger problem. However, on Instagram, Bush slammed Beghe for reducing his aggression to anger management issues, branding his behavior "gross physical misconduct."
As Bush highlighted on "Armchair Expert" the following year, she struggled throughout filming the series. Overworked, she was forced to film scenes outside in extreme cold weather conditions. The actor admitted that she felt guilty about opening up about the abuse she experienced at work due to the various jobs that were at stake, coupled with the emotional manipulation from her bosses. "If your bosses tell you if you cause a ruckus you'll cost everyone their jobs, you believe that," she explained, describing her treatment on set as "a consistent onslaught barrage of abusive behavior."
When she told her boss that she couldn't tolerate the abuse anymore, opting to quit, she was warned that leaving wasn't an option. "Staying was like certain death ... You start to lose your way when someone assaults you in a room full of people and everyone literally looks away ... and you're the one woman in the room and every man who's twice your size doesn't do something," she said.
Sophia Bush's beloved dogs died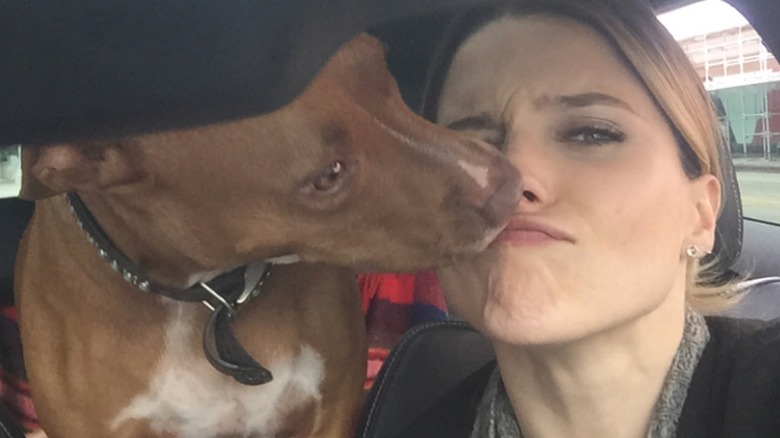 Sophia Bush has made no secret of her love of dogs and has adopted a number of pups from rescue shelters. As she told Fetch in 2015, she's a certified "dog version of the crazy cat lady." In the interview, she waxed lyrical about her furbabies Penny, who roused pleasant memories since she reminded the actor of her childhood pooch, and her older dog Patch. "No matter how many dogs you have in your life, you have one that's a soul-mate dog, and for me, that's Patch," she declared.
Unfortunately, just one year later, Patch died aged 14. "I said goodbye to my best friend yesterday ... I watched this dog soothe people, heal people, help people, and make people laugh, squeal, and grin with happiness," she wrote on Instagram. "He was one in a million."
Sadly, the loss didn't end there. In 2019, Penny also died, aged 10. As Bush revealed on Instagram, Penny had been sick for some time and she knew her death was imminent. Nevertheless, she was unprepared for her passing. What made the loss particularly painful was that her other dog, Griffin, whom Penny mothered, was struggling to cope with the pooch no longer being around. "Seeing him look for her in the house makes my heart catch in my throat," she wrote. Since her tragic losses, Bush has welcomed more pups into her life. A year after Penny's death, she adopted Maggie, who hopefully provided Griffin with the canine friendship he sorely missed.
The actor was the victim of two stalkers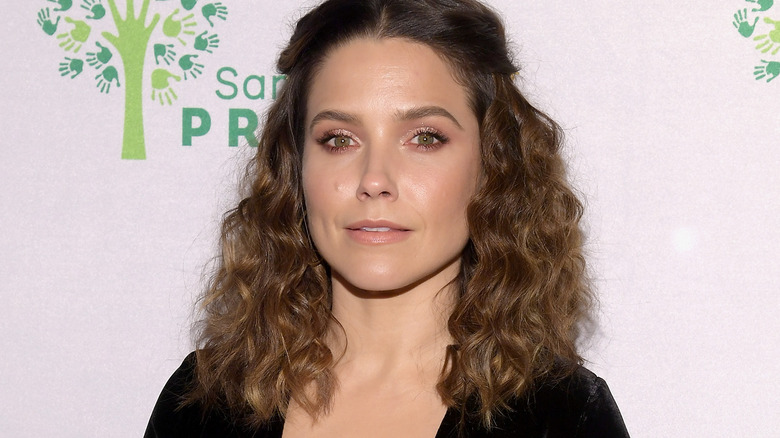 When celebs reach monumental heights of fame and fortune, it's often the case that certain fans can get a tad too familiar with them. And some celebs have had to deal with downright terrifying stalkers. Sadly for Sophia Bush, she's been subjected to more than one unsettling interaction with a fan who attempted to invade her privacy.
In 2022, Bush had to deal with the terrifying ordeal of having an obsessed fan invade her personal space both online and IRL. As TMZ reports, Jhoseplyn Coreaarguello developed an obsession with Bush, sending her "aggressive Instagram messages." What's more, she even turned up at Bush's home where she left the star gifts and flowers. Coreaarguello was arrested and charged with stalking.
Unfortunately, this wasn't the first time Bush had a run-in with a stalker. Back in 2014, she divulged that a fan had begun posing as her on Twitter, per Business Insider. The fan posted over 500 worrisome tweets while pretending to be the "One Tree Hill" star, with Bush sharing dozens of screenshots of messages the imposter sent her fans. "For the past few months I have been harassed to the point of sheer horror by an online stalker," she wrote in a since-deleted Instagram post. "This person has taken to harassing and bullying many of my followers as well ... This has gotten beyond out of hand. Obsessive. Violent. And legally punishable." Per Page Six, she swiftly contacted the police to deal with the matter.
She was the target of online hate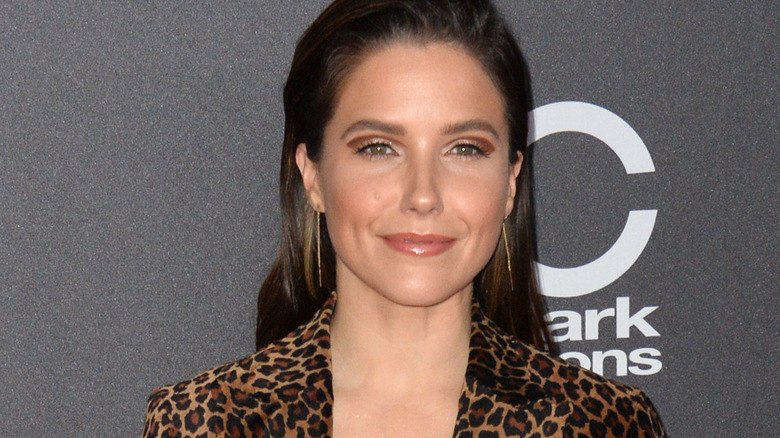 Sophia Bush has long been the target of online animosity. Following her departure from "Chicago P.D.," she disclosed that she was being harassed and attacked on a daily basis by trolls. In a series of tweets (via Entertainment Weekly), she lamented, "Being alerted to groups of 'fans' ripping your life, choices, and happiness apart in private chats feels like s***... Being endlessly attached [sic] by trolls... for every single thing you do, also feels like s***."
Speaking with SheKnows, Bush said that she faces far more hate than any of her male counterparts, arguing that the wrath that women in the public eye are subjected to is inherently sexist. The actor noted that she frequently receives hateful comments from men criticizing her body: "And that's not even getting into the threats of violence. And they come every day."
Bush was also targeted by Donald Trump supporters after she condemned the then-President, revealing that she was on the receiving end of death and rape threats on a regular basis. "Some of you have come at me on social media recently, telling me that I deserve to die," Bush, who is a gun owner herself, wrote on Instagram. "That I'm a disgrace to America. That I should get shot and stop complaining. All because I am heartbroken ... about America's gun problem." In the moving post, she shared that she was haunted by the murder of her nine-year-old cousin, which spurred her to speak out in favor of gun control.
Sophia Bush has struggled with her mental health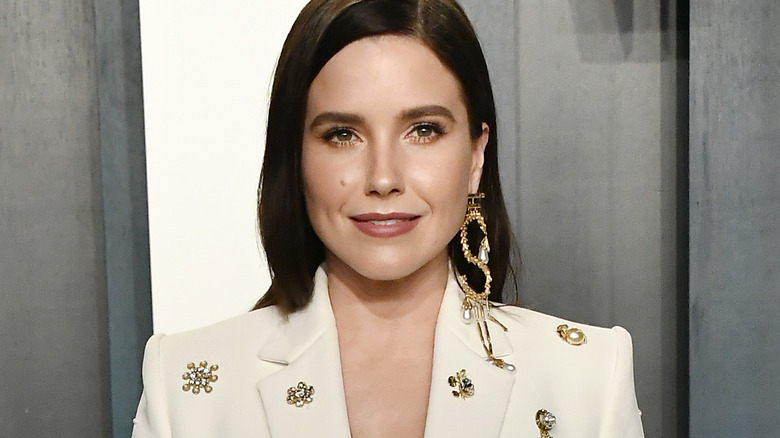 Sophia Bush has been open about living with anxiety. As she told Brit + Co, "Confidence is a tricky word. I don't think that that's my natural state, my natural state is to be a little anxious." But as with so many people, having to deal with the advent of COVID-19 exacerbated these issues. In an interview with Teen Vogue, Bush explained that the pandemic had impacted her mental health, causing her greater anxiety. "The experience of stress and trauma ... having friends hospitalized, knowing people who have had family members die — it's a really intense experience," she explained.
The actor highlighted that she had also struggled with other mental health problems pre-pandemic, noting that the demands of the grind and being frequently burnt out from work aggravated her personal turmoil. She elaborated on the stress of burnout on "Armchair Expert," detailing its detrimental effects, both physical and mental.
Additionally, Bush has been frank when discussing her self-esteem issues. Opening up to Health (via Us Weekly), she divulged that she'd grappled with self-loathing and doubt. "We are so conditioned as women to hate on ourselves all the time .... This is me, whether I like it or not. I will never be as tall as Gisele [Bundchen]. I will never have bone structure like Hilary Rhoda. I will never have Penélope Cruz's hair." However, she stated that she has come to accept that she doesn't have these attributes; rather, she has learnt to embrace her unique self.
If you or someone you know needs help with mental health, please contact the Crisis Text Line by texting HOME to 741741, call the National Alliance on Mental Illness helpline at 1-800-950-NAMI (6264), or visit the National Institute of Mental Health website.
Sophia Bush was devastated by her co-star's death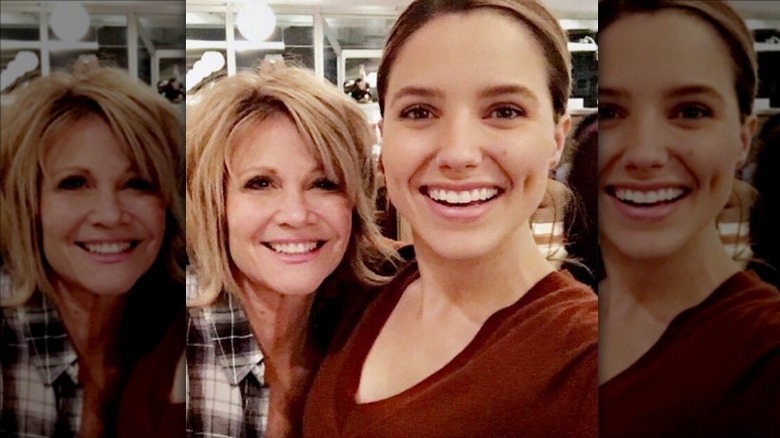 Sophia Bush was close friends with her "Chicago P.D." co-star Markie Post, who played Bunny, the mom of Bush's character Lindsay. On screen, Lindsay and Bunny had a toxic relationship blighted by substance misuse and manipulation, per The Hollywood Reporter. But in real life, Bush and Post's relationship couldn't be anymore disparate from that of their onscreen counterparts.
In 2021, Post died at the age of 70, per Deadline. She had been living with cancer for almost four years before succumbing to the disease. Devastated by Post's death, Bush penned a lengthy Instagram tribute to her co-star and friend, detailing the ways in which she changed her life for the better. "Crushed. Heartbroken ... When I lived in a box that made it deeply difficult to be a woman who could exist as one ... Markie came in with arms to envelop me and eyes that fired both kindness and lightning storms into the room as she held me, and likewise called other women into her safe space," she wrote.
The actor went on to discuss the maternal figure Post adopted over her — both on and off screen — and she felt safe confiding in her co-star whenever she was plagued by self-doubt. Accordingly, she encouraged her followers not to hold off telling their loved ones how much they mean to them: "Don't say 'we'll do it soon, honey.' Don't wait until everyone is 'back in town and it's easy.' Do it now. Make the trek."