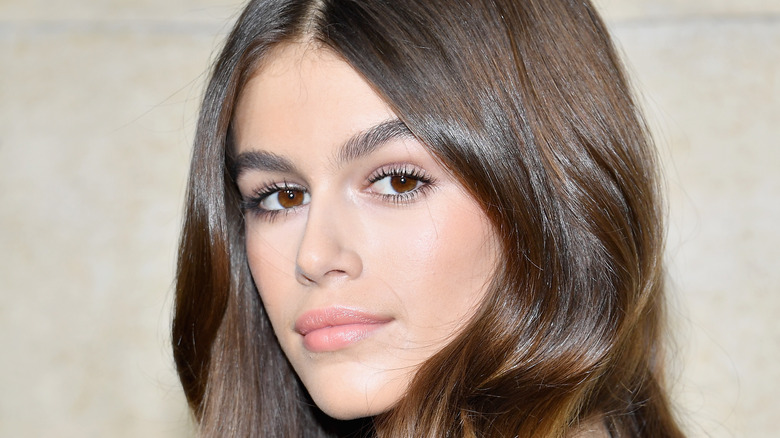 Kaia Gerber is one busy lady. The model and actor has been a part of the industry since she was a little kid, thanks in large part to her very famous parents. Her mother is supermodel Cindy Crawford and her father is businessman and former model Rande Gerber, who also share son Presley Gerber.
For a long time, Kaia didn't totally understand her mom's legacy. "I knew she [modeled], but I didn't really [realize] it was a job? Like if your parents are doctors or lawyers, that's a different thing," Gerber told i-D in 2020. "It wasn't like 'Cindy Crawford' was my mom, she was just mom and she happened to be a model. It was only when I started working in the fashion industry that I began to really grasp her impact and influence." So she was awestruck a lot later than the rest of us.
It's safe to say at this point, Gerber completely understands who her parents are and she's launched her own bright career off of their legacies. In addition to major modeling contracts, Gerber joined the 10th season of "American Horror Story" among other acting gigs. She's also dated a slew of A-lister men, including Pete Davidson. (More on him later.) So she's certainly got a full life of her own, but how did it all begin?
Kaia Gerber modeled for Versace at 10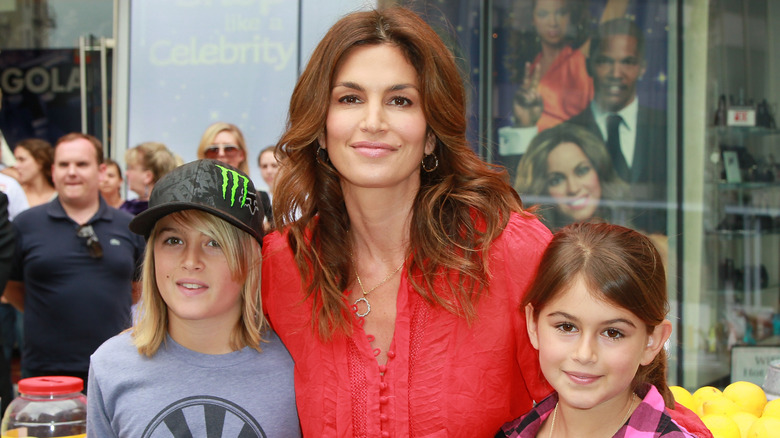 Cindy Crawford and Kaia Gerber make no effort to hide the fact that Kaia began working as a model thanks to her famous mom. Call it nepotism or genetic inheritance, but Crawford certainly gave Kaia a hand. (Same for Presley Gerber, who has worked in the modeling industry as well, though to a lesser extent than his younger sister.) "They have agents, but I would say for the first year, for sure, everything was 100 percent through me," Crawford told W Magazine of her children in 2018. "Eventually, I want to empower them to be in charge of their own careers, but they're not ready for that yet." Unsurprisingly, the iconic supermodel can rock a momager hat.
In 2012, at the age of ten, Kaia modeled for Young Versace in what was a huge hit of a campaign. Donatella Versace gushed to Vogue about how wonderful Kaia was, as well as how nostalgic it was working with Crawford on the set. "Like her mother, Kaia has a very special gift," Versace said. "The camera really, really loves her. ... It was such a special treat watching Kaia walk in her mother's footsteps!" Clearly, the writing was on the wall from childhood that Kaia was destined for a life on the runway, just like her leggy mom.
She did her schooling online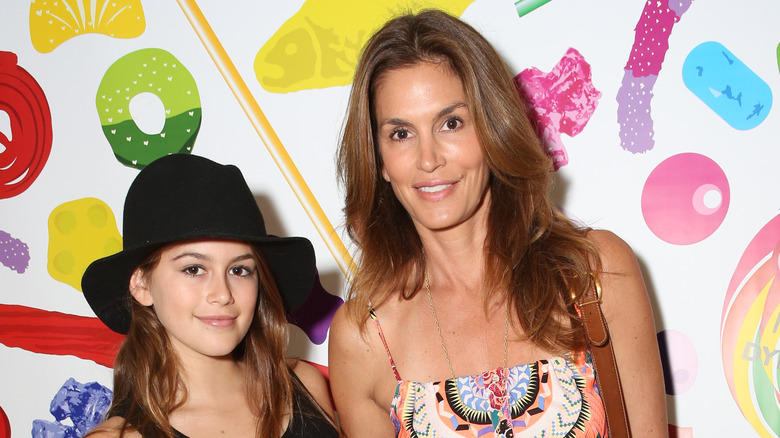 Because Kaia Gerber's career kicked off at such a young age, she opted for a less traditional education. Prior to that, both Kaia and her brother, Preston Gerber, attended Malibu High School, a public school so close to their home that they could walk to class, according to Vogue, with their surfboards in tow. But once Kaia began working the runway and being called abroad, a local high school experience just wasn't possible and she began taking online classes.
It wasn't without its challenges though. Kaia told Harper's Bazaar in 2018, "I'm completing my diploma at Malibu High School through an online program, and it's difficult to get much done during the week, as the Wi-Fi on planes is really annoying. My favorite class this year is AP Calculus because I just like math. It's definitely super hard to teach yourself derivatives, though!"
After graduating from high school, Kaia went on to work full time. But where does she see herself in the future when it comes to her education? She admitted to Vogue that she'd always pictured herself attending Columbia University. But that's a long way off and Kaia's fine with it. "I have no problem with being a 50-year-old in college," she said.
The Marc Jacobs phenomenon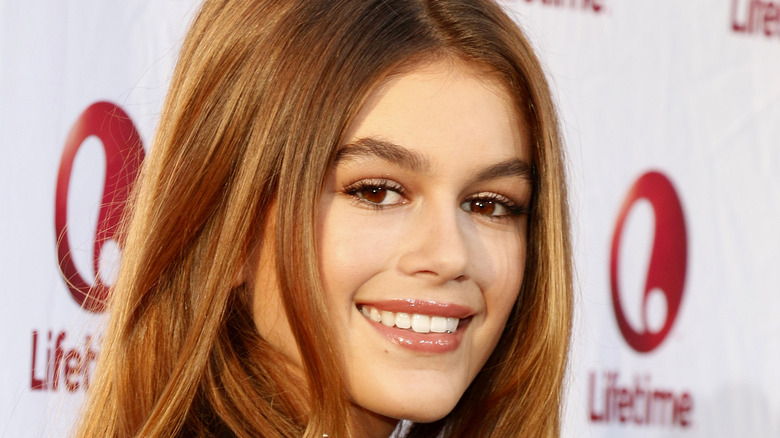 A huge turning point in Kaia Gerber's career came through Marc Jacobs. At only 15, Gerber was the face of the Daisy Marc Jacobs fragrance and hit the ground running. In 2017, she arrived at the event in a Marc Jacobs minidress and posed next to a white convertible overflowing with daisies, per the Daily Mail. Her brother, Preston Gerber, joined her at the event. It's no small feat to land a Marc Jacobs campaign. After all, in 2015, then-blossoming model Kendall Jenner was featured solo for the first time in her career in the designer's spring campaign. It's something of a rite of passage to the major leagues.
Gerber continued to work for Jacobs on the Daisy fragrance. In 2020, when Gerber was 18, she had to face some obstacles in shooting an ad for Daisy. Quarantine restrictions had set in due to the coronavirus pandemic, so groups, including photographers, weren't allowed to gather. On top of that, Gerber dislocated her wrist, leaving her arm wrapped in a blue cast. Nevertheless, she orchestrated her own photoshoot outside, wearing a breezy, white dress. "[T]his is hard but i smell great," she captioned the photo and video of herself fumbling with the pump because of her injury. Jacobs himself responded, "Even with your arm in a cast! Fantastic." So her ingenuity was much appreciated, despite injury and a pandemic.
She connected with other models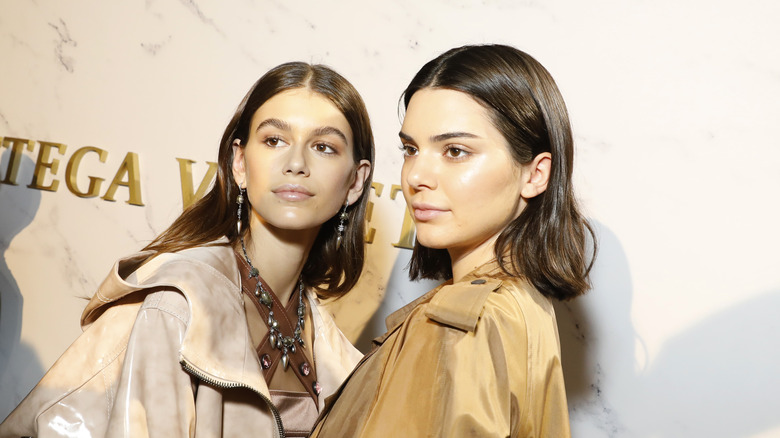 The world of modeling seems to be much smaller than we might have guessed, judging from Kaia Gerber's close relationship with other models. Take her bond with Kendall Jenner, for example. In 2017, Vogue joked the two confirmed their friendship to the world by wearing similar cropped tanks while out and about in Beverly Hills. She's also gotten matchy-matchy with Bella Hadid. In 2017, the two wore the same leopard print pants and blue metallic bangs to a fashion show in Milan, and yes, they both happily shared the looks on Instagram.
Hadid and Gerber both hail from supermodel mothers while Jenner had her family's fame prior to her own identity as a runway stomper. Stylist Robert Verdi told Vanity Fair that he was critical of that particular ilk of models since, as he said, they didn't have to climb the ranks. Whether one agrees with him or not, it's safe to say these women can relate to each other on multiple levels.
All that said, Gerber's whole world isn't the modeling world. "I try to separate my [modeling] work from my school life because I don't want people to think of me differently or that I am a certain way because of it," she admitted to Vogue in 2017. "I think I do a pretty good job of separating it, I don't really talk about it with my friends. Other than my friends that are part of the industry, and I guess that's different."
Kaia Gerber's 'weekend squad'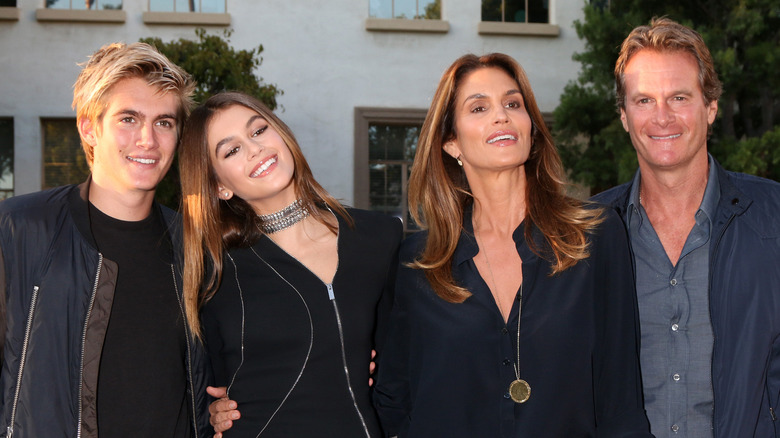 Kaia Gerber is all about her family and is super close with her parents and brother. In a 2018 feature for Harper's Bazaar, Kaia called her family her "weekend squad" and said that they hang out together as often as possible and go on group bike rides together. Aww. But Gerber is especially close to mom, Cindy Crawford, and admires her. "People tell me I look like my mom, which I take as a compliment," the young model told Manifesto in 2018. "I wouldn't care if she was a model or not a model. The values she taught me have stuck. ... Everyone I meet who knows her or who has worked with her only has great things to say about her. She is my biggest role model."
The respect goes both ways. Crawford admitted that when her daughter first started working, the mama bear instinct went off. But she knew that Gerber could handle it because she trusted her daughter's instinct. "When Kaia started to model, she jumped right into it, loved it, and immediately wanted to do everything," Crawford told Vogue. "I was very protective at first, and I traveled with her to fashion month. But Kaia has her head on straight." So there's no shortage of support from her mom, dad, and brother. Talk about a family unit.
She got into cooking and exercise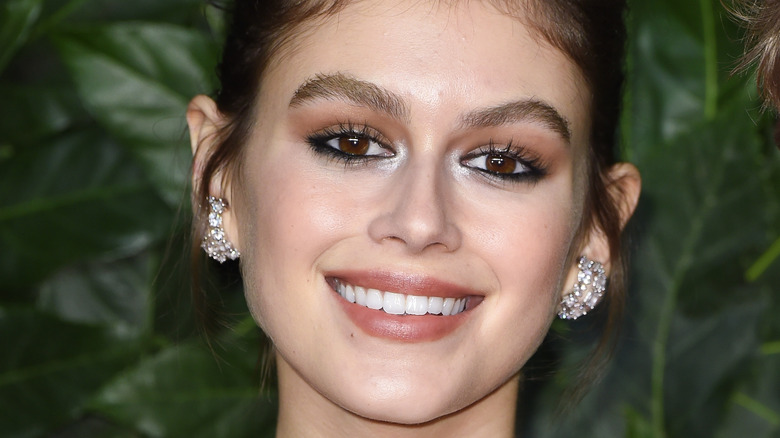 Kaia Gerber is all about cooking. When she described her ideal day to Harper's Bazaar in 2018, a lot of her favorite daily activities revolve around food. "I'm passionate about breakfast," Gerber said. "I wake up hungry, so I always eat a bagel." When she meets up with friends while she's home with her family, her favorite stop is Café Habana Malibu, where she'll order steak tacos followed by a banana split made with caramelized plantains.
Dinner is where Gerber's interest in food prep really comes in handy, or lack of a need for food prep because she's all about easy, quick meals. "I don't go a day without eating pasta," Gerber explained. "Penne with vodka sauce is my all-time favorite and is actually one of the things I know how to prepare myself. It's very important to know how to make pasta because you can do it anywhere in the world. It's easy, it's fast, and everyone likes it."
Gerber also hits the gym big time. Trainer Kirk Myers shared a video on Instagram of Gerber at the Dogpound gym in West Hollywood with Kit Keenan, an alum from Matt James' season of "The Bachelor." The two gals did an intense partner workout, prompting one fan to ask, "How many days per week?!" Obviously, it's all about a balanced life.
She dated Pete Davidson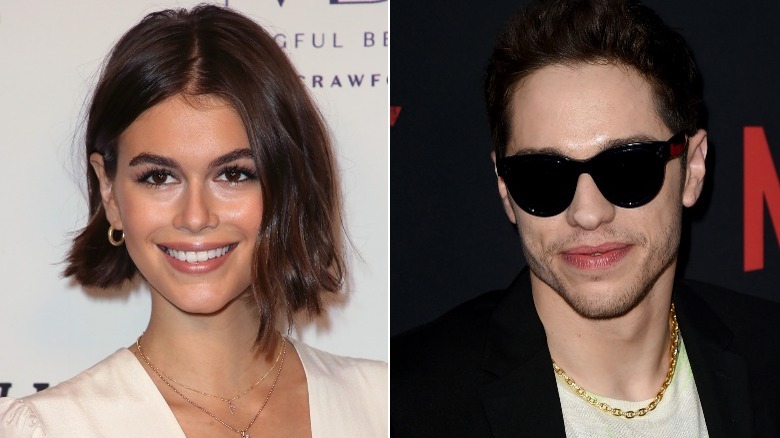 In 2019, Kaia Gerber started dating Pete Davidson. The duo got together when Kaia was 18 and Davidson was 26. Davidson was walking in runway shows and reportedly met Gerber at one of these events, according to Page Six. It was a very brief relationship, as news of their split surfaced in January 2020. "It got very overwhelming for Kaia," a Page Six source said. "Pete has a certain M.O. and he's very intense to his girlfriends. Kaia is only 18 and it's a lot to deal with."
What did Kaia's parents think of it? Neither Rande Gerber nor Cindy Crawford ever spoke publicly about the relationship, but around that time, they were spotted having what appeared to be a serious conversation outside of Kaia's apartment. Why might this pertain to Davidson? Well, he was spotted leaving Kaia's place shortly after her mom and dad were hashing things out on the sidewalk below.
While Gerber hasn't explicitly spoken about Davidson, she did give some cryptic information to Vogue in 2021. "I had never had a high school sweetheart or anything. And so I tended to date older people because those were the people I was around," she shared. "And I got put in situations where one day I'd wake up and be like, How did I get here? I have no idea what I'm doing, and I need help." Gerber added that a lot of growth came when she reached out to ask for what she needed.
She launched an Instagram bookclub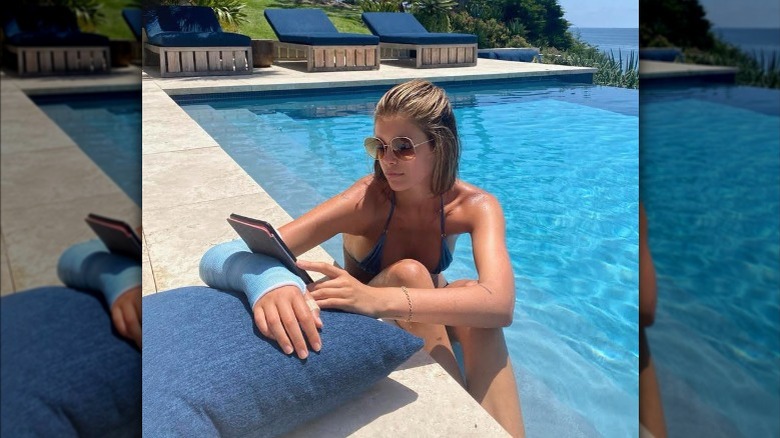 Kaia Gerber is an avid reader, largely thanks to her mom, Cindy Crawford. Gerber kept up the practice out of enjoyment but also because of self-doubt. "I started working when I was pretty young, and I always had this insecurity that I didn't end up going to college, because for my whole life, that was my goal," Gerber told Vogue. "I felt that I wasn't going to have the education that I wanted and that I desired, so I really started reading a lot just to educate myself."
Gerber's love of books became something she wanted to share, so in March 2020, she launched a book club on Instagram. Each week, she announces which book she's reading and then a few days later, she hops on Live and chats with her followers about it. She occasionally brings guests on, including author and model Emily Rajtakowski, Lena Dunham, and Jane Fonda. In other words, it's not exactly your average neighborhood book club.
So what are some of the major titles that have shaped Gerber's reading life? She's a huge fan of "The Lover" by Marguerite Duras, "The Stranger" by Albert Camus, and Patti Smith's "Just Kids." Gerber said to Vogue of Smith's memoir: "You're young, you read it, and you just want to change your entire life afterwards, to live freely and be who you want. It was so inspiring."
She invested in W Magazine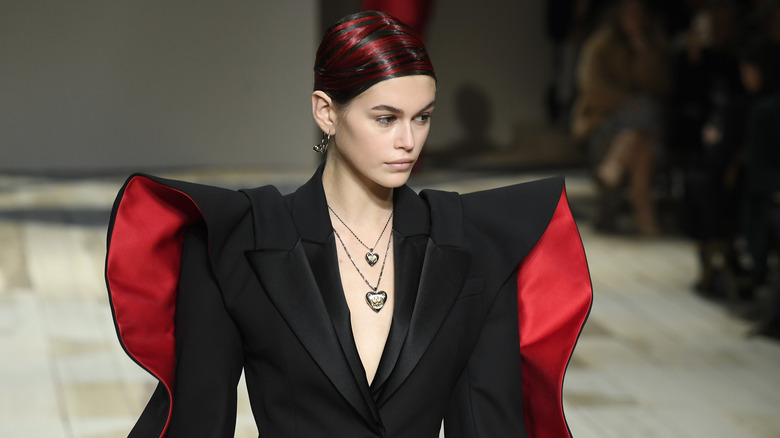 W Magazine hit hard times in March 2020, with much of its struggles blamed on the coronavirus pandemic, according to The New York Times. Many of the publication's staff were furloughed or kept on with diminished salaries. The chief executive of W at the time, Marc Lotenberg, admitted to the Times that the magazine was late in payments and that there was serious trouble.
So in August 2020, news broke that W partnered with Bustle Digital Group (which includes websites like Bustle and Mic), according to a later story by The New York Times, and would operate under the new title W Media. The magazine was also taken on by a large group of investors, including producer Jason Blum, who produced films like "Get Out" and "The Invisible Man." Other investors included model Karlie Kloss and Kaia Gerber, when she was just 18. The magazine's editor-in-chief, Sara Moonves, told the Times, "We did it all over Zoom. None of us even met in person."
While Gerber remains an investor, she also attends several events related to the magazine. In March 2022, Gerber attended W Magazine's pre-Oscar party in Los Angeles, wearing a gold sequined crop top. Gerber was joined by beau Austin Butler, according to the Daily Mail. The event was to celebrate W's Best Performance issue, a major deal for the newly revived magazine. Gerber's certainly a compelling personality to bring attention back in W's direction.
She joined the American Horror Story universe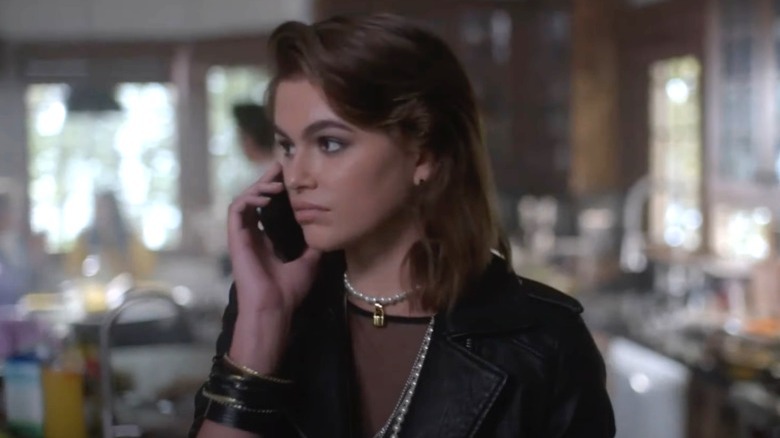 Kaia Gerber got to hone her acting talent in Season 10 of "American Horror Story," playing Kendall Carr. On top of that, she appeared again in the franchise's spinoff, "American Horror Stories" as the ghost Ruby McDaniel. The acting opportunity was even more exciting for Gerber because she's a diehard fan of the series. "[W]hen I joined the world, there was part of me that was really nervous because so many people that I look up to are solidified in this world," Gerber said to ET in 2021. "And someone who was really wonderful was Sarah Paulson, who I felt from the time that it was announced that I was going to be in it really supported me."
When Gerber first auditioned for the role, she didn't know that she was auditioning for "AHS," only that it was a project involving the show's creator Ryan Murphy. "I was so nervous and like, 'This will never happen, but I just can't pass up this opportunity,'" Gerber said, adding that it was mom Cindy Crawford who taped an audition scene with her.
This isn't Gerber's only acting experience. In June 2022, Deadline announced that she had been cast in "Mrs. American Pie," playing Mitzi, a manicurist. It looks like this is just the beginning of a solid acting career for Gerber.
Her journey to independence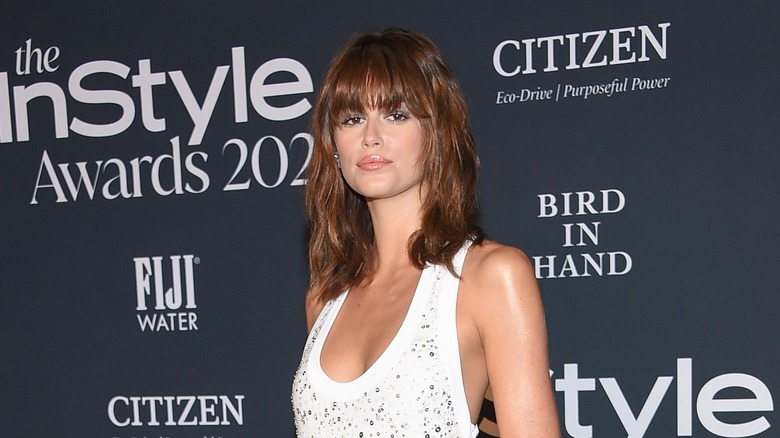 It's not everyday that we get such candid conversation from celebrities about topics like codependence, but Kaia Gerber has been rather open about the topic. The model spoke with Lena Dunham in a 2022 Instagram Live session about how she realized she was letting other people have power over her well-being.
"One of my favorite self-help books is 'Codependent No More,'" Gerber told Dunham, according to Us Weekly. "Even if you're not technically codependent, just not allowing your happiness to rely on someone else's I think is a huge thing. Because I was like, 'I'm so independent. I'm good,' and I was reading that book and I was like, 'Nope, I am absolutely codependent.'" Gerber joked that Cindy Crawford would often offer advice during her childhood gleaned from self-help books and Gerber dismissed it until one day she saw the merit in speaking truthfully and standing her ground.
Learning to speak about negative things was also a lesson for Gerber. "I'm a trusting person," she told Vogue in May 2021. "There were moments I'd be going through a hard time, and people would ask me how I was, and I'd say, 'Oh, I'm good.' Now it's more, like, maybe the person I'm talking to is also having a bad day, and we can talk about it. If we close ourselves off, a lot of things get buried." So Gerber's message is all about opening up and sharing what's really going on, rather than what's easy or comfortable. Sounds like a great example of vulnerability.
Kaia Gerber and Austin Butler become a couple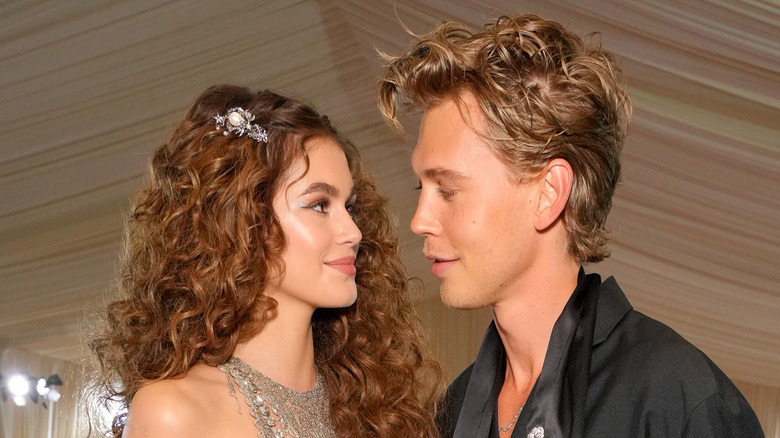 Kaia Gerber has been romantically linked to Pete Davidson and Australian actor Jacob Elordi, but she really sparked fans' interest when she began dating Austin Butler, whose turn as Elvis Presley in Baz Luhrmann's "Elvis" has garnered a lot of attention. Previously, Butler dated Vanessa Hudgens. While Butler and Gerber have a ten-year age gap, Hudgens and Gerber are 13 years apart and photos have resurfaced of Hudgens meeting five-year-old Gerber on a red carpet back in 2007.
Butler and Gerber were first spotted in December 2021 by the Daily Mail after leaving a yoga class together. Later, they were photographed walking dogs together in Los Angeles and later spotted in Paris in March 2022. Their red carpet debut also happened in March of that year, attending W Magazine's Best Performance party. That May, they attended the Met Gala together in New York. And at the "Elvis" premiere, Gerber was at Butler's side.
While both parties haven't been too vocal about their romance, Gerber's January 2022 interview with People suggests she's in a content place. Regarding how the pandemic impacted her perspective on life, she said, "I think, it's so important people are realizing how important their happiness is outside of work, when you don't have all these outside resources to gain happiness from, where that internal happiness comes from." Judging by their chemistry, Gerber and Butler have certainly found that happiness comes from connection rather than work.
Kaia Gerber continues to find success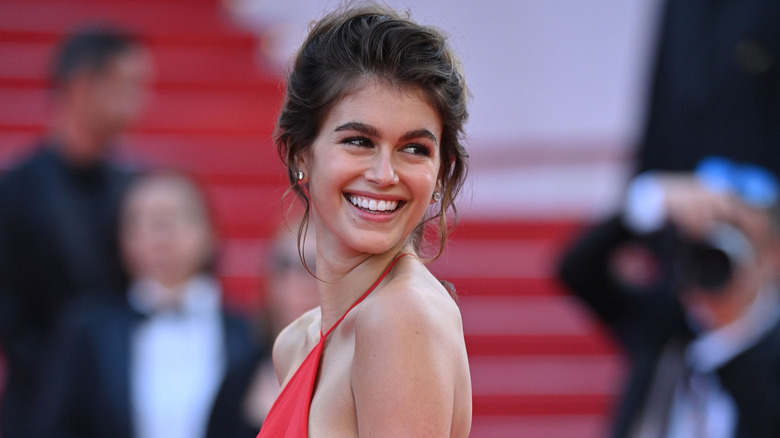 All of this exposure and hard work has paid off for Kaia Gerber. The model and actor has a net worth of $3 million, according to Celebrity Net Worth. However, it's her parents' money that really amps things up. Cindy Crawford and Rande Gerber have a combined net worth of $400 million, according to the outlet. A good chunk of this comes from Rande Gerber's tequila collaboration with George Clooney, through their brand Casamigos.
Some of Kaia's big brand gigs have come through her mom, like her affiliation with the luxury watch company, Omega. Crawford has been a face for the brand since 1995 — or, as the supermodel said in Vogue, "I have been an Omega Ambassador longer than I have been married." So in 2017, it wasn't a huge leap when the company brought Kaia in to join her mom. But for many of her other sponsorship gigs, Kaia has gotten them on her own. Her Instagram is full of content for brands like Calvin Klein, Celine, and Loewe. When Beats by Dr. Dre wanted to reach a new era, they turned to Kaia, knowing she'd have an effect on younger shoppers.
So, what else does the future hold for Kaia's career? Grazia once predicted she'd eventually find more success than her legendary mom, and while the jury's still out on that, it feels safe to say this young model's star power (and bank account) will only continue to increase.