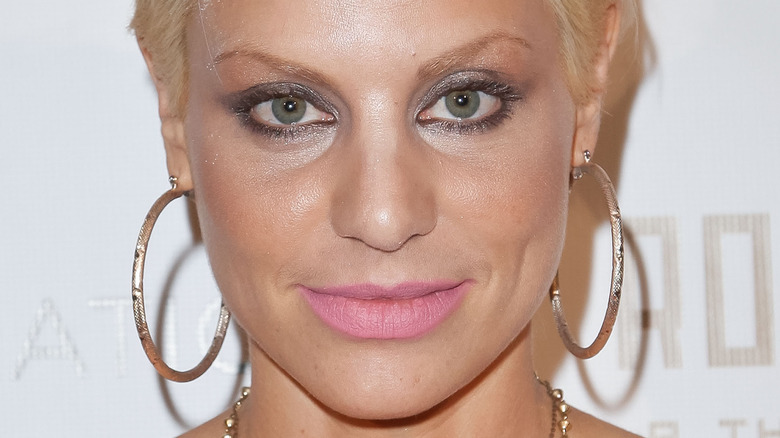 "America's Next Top Model" entertained audiences for years with its theatrical runway shows and impossible challenges — and who could forget those transformative makeovers? Although the reality TV hit earned many loyal fans, it has come under fire in recent years for its controversial photoshoots and many scandals.
Host and creator Tyra Banks has been blamed for many of the show's controversies. Some have pointed to the former model's treatment of contestants like Danielle Evans from Cycle 6: Banks urged the then-aspiring model to get dental surgery to close the gap between her two front teeth, but she didn't budge. Evans took to Instagram in 2020 to address the episode, explaining that Banks continued to grill her about her decision behind the scenes until she eventually agreed to slightly close her gap.
As viewers revisited the show, they began to share their opinions on its problematic moments via social media. Banks later took to Twitter (per Variety) to address all of the backlash. "Been seeing the posts about the insensitivity of some past ANTM moments and I agree with you," the model wrote in a now-deleted tweet. "Looking back, those were some really off choices. Appreciate your honest feedback and am sending so much love and virtual hugs." With all these scandals and controversies, you might not be surprised to hear that many contestants endured hardships both on and off the show. Keep reading to find out the many tragic details about "America's Next Top Model" contestants.
Mirjana Puhar was fatally shot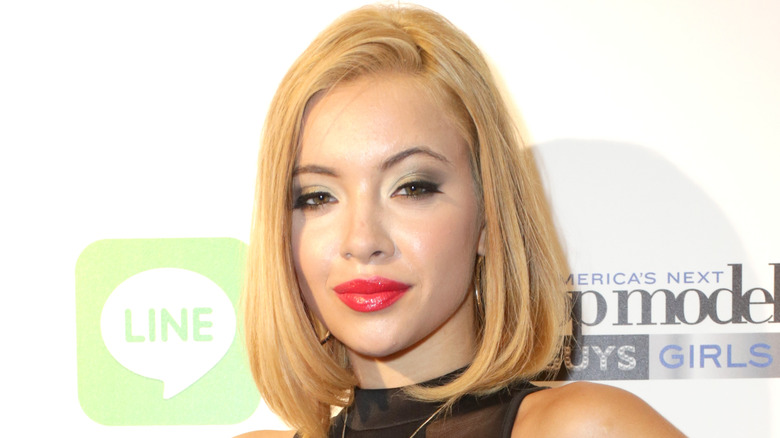 Mirjana Puhar appeared in Cycle 21 of "America's Next Top Model." Only 18 years old at the time of filming, Puhar had her whole career ahead of her when she left the show. Sadly, a tragedy ended the model's life less than a year later, in 2015, when in 2015 when Puhar was fatally shot along with Jusmar Isiah Gonzaga-Garcia and Jonathan Cosme Alvarado, who was the model's boyfriend (via NBC News). The murders were reportedly drug-related. The killers, Emmanuel Jesus Rangel and Edward Sanchez, later received three life sentences each for the crimes.
"America's Next Top Model" producers Ken Mok and Tyra Banks shared a statement with Hollywood Life following Puhar's tragic death. "We are deeply saddened to learn of the tragic news about Mirjana Puhar," they said. "She was a vivacious and promising young woman. Our hearts and prayers go out to her loved ones." Miss J Alexander also shared a heartfelt message in the days following the aspiring star's death. "Saddened to learn about #ANTM Cycle 21 contestant Mirjana Puhar's murder," the former judge wrote on Twitter. "Remembering her fondly. RIP."
Renee Alway went to prison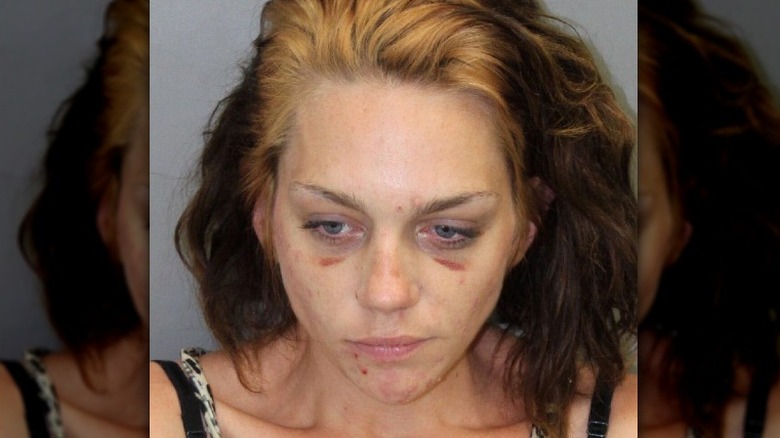 Cycle 8 contestant Renee Alway spent years in and out of prison after she left "America's Next Top Model." The once-aspiring model's life took a sad turn in 2013 when she was arrested for "suspicion of burglary, fraud, possession of narcotics, forged bills, and committing a felony while on bail" after a stand-off with law enforcement, as reported by TMZ. The outlet later shared that Alway was sentenced to 12 years in prison in connection with these charges, but only served five. Unfortunately, this wasn't the last time the former reality TV star got in trouble with the law. Just one year after her 2018 prison release, Alway was arrested for domestic violence.
In 2015, the "America's Next Top Model" alum spoke to Palm Spring California's KESQ about the stand-off that led to her 2013 arrest and the hardships she faced after leaving reality TV. "I can't even remember what was happening then," Alway said of the events that led to her first arrest. "That's how bad it was. I have bits and pieces of broken ... broken memory about it." She added, "I felt like a failure because I couldn't get past the reality TV stigma that had been put on me ... and then there's the pressure of the fans. 'Where are you?' 'What happened?' It's almost like a setup for failure."
If you or someone you know is dealing with domestic abuse, you can call the National Domestic Violence Hotline at 1−800−799−7233. You can also find more information, resources, and support at their website.
Jael Strauss died of breast cancer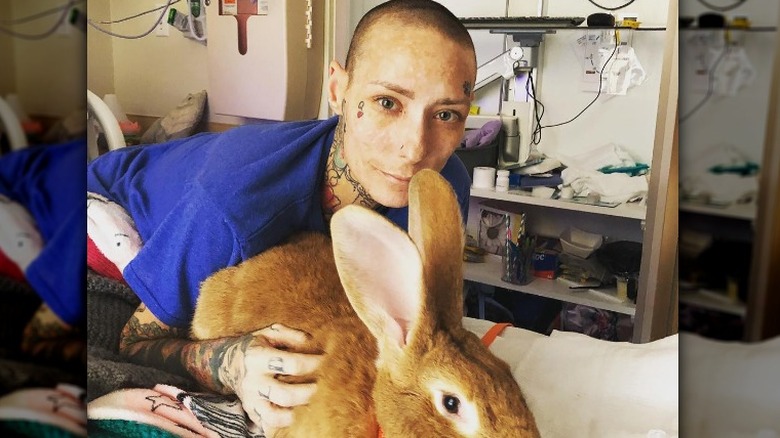 Like Renee Alway, Jael Strauss appeared on "America's Next Top Model" during Cycle 8. Strauss had a similar experience with drug use, which was documented on "Dr. Phil" in 2012. According to Metro UK, Dr. Phil sent the former aspiring model to a rehabilitation center to receive help for her crystal meth use. Strauss did achieve sobriety, but she opened up to TooFab in 2016 about feeling exploited on the show. "I do feel that 'The Dr. Phil Show' exploited me and has done that to other people and their addictions," Jael said. "At the same time, I have an inner conflict, because I know that my story has helped so many people." She added, "The number one important thing in my life is to help other people, so I wouldn't change that, but it was not voluntary."
After remaining sober for five years, Strauss faced more heartbreak. "On October 2nd I was diagnosed with stage IV breast cancer. It has aggressively spread throughout my body and is incurable," she wrote in a Facebook post in 2018. The former model documented life in hospice care on her Instagram account. According to TMZ, she had decided to stop chemotherapy just a few months prior to her passing and entered hospice care soon after. Strauss died just two months after being diagnosed with breast cancer, per TMZ.
If you or anyone you know needs help with addiction issues, help is available. Visit the Substance Abuse and Mental Health Services Administration website or contact SAMHSA's National Helpline at 1-800-662-HELP (4357).
Kimberly Rydzewski took her own life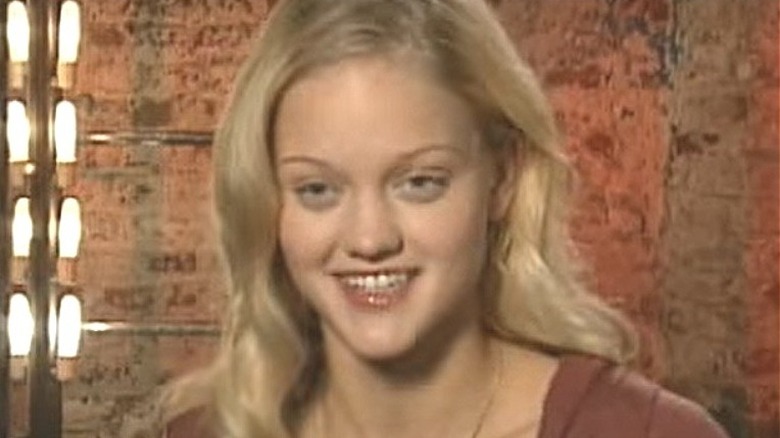 Cycle 10 contestant Kimberly Rydzewski left "America's Next Top Model" before she could be eliminated. On the show, Rydzewski claimed that she wanted to walk away because she wasn't a fan of high fashion, but during an appearance on "The Tyra Banks Show," she revealed that she wasn't honest in that moment. The former aspiring model shared that she left the show because her ex-boyfriend died by suicide just three months before she joined as a contestant. "It was the hardest thing I have ever gone through, and at that point in my life it was so sudden and I rushed into the whole 'Top Model' thing," she told Banks. Rydzewski also shared that her mother died by suicide when Rydzewski was in middle school, leading her to have anxiety and seek therapy to cope with the trauma.
But then Rydzewski herself took her own life in 2016. According to Rydzewski's obituary, her career didn't end after she left the show. She went on to book modeling gigs, make appearances on radio stations, and work with the Humane Society. "Kimberly's passions were her family, fashion, modeling and her love of animals," the obituary read in part. "She was a gentle and compassionate soul who cared about others with a loving heart."
If you or anyone you know is having suicidal thoughts, please call the National Suicide Prevention Lifeline​ by dialing 988 or by calling 1-800-273-TALK (8255)​.
Lisa D'Amato experienced childhood abuse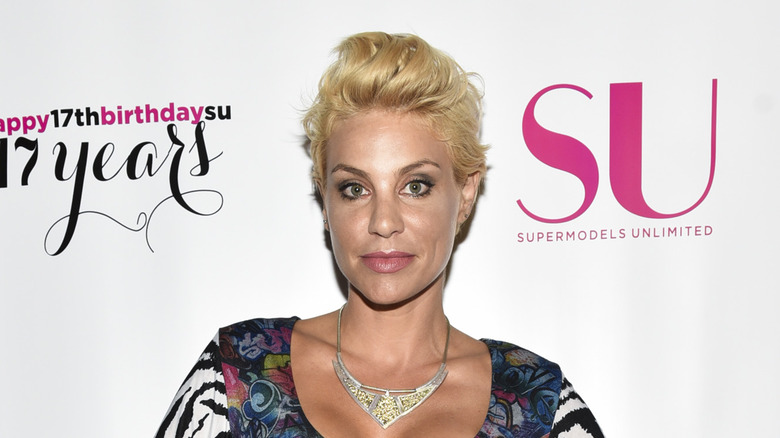 Lisa D'Amato appeared on "America's Next Top Model" during Cycle 8, and went on to pursue music, acting, and reality TV. D'Amato was one of many stars who opened up about their drug use on "Celebrity Rehab with Dr. Drew." She also returned to the "All-Stars" Cycle of "America's Next Top Model." D'Amato is now a mother of two (via E! Online), but what many fans might not know is that D'Amato overcame quite a lot to get to where she is today.
According to HuffPost, the former reality TV contestant spoke about her traumatic upbringing during a 2014 feminism-focused event in Los Angeles. "My mom in particular was really great at bringing in pedophiles ... She had no confidence whatsoever," D'Amato revealed. "She really allowed all these men to come in and abuse her, abuse us. And if we ever complained about it, it was our fault ... we were going to amount to nothing." D'Amato also shared that she picked up an eating disorder from her mother.
She eventually realized that she had gotten to a place where she was mimicking her mother's harmful behavior, and this inspired her to change her life. "I feel so blessed to have learned these lessons so early ... Something inside told me this was all happening for a reason and I was going to have to tell my story," D'Amato said.
If you or anyone you know has been a victim of sexual assault, help is available. Visit the Rape, Abuse & Incest National Network website or contact RAINN's National Helpline at 1-800-656-HOPE (4673).

Angelea Preston's title was taken due to her past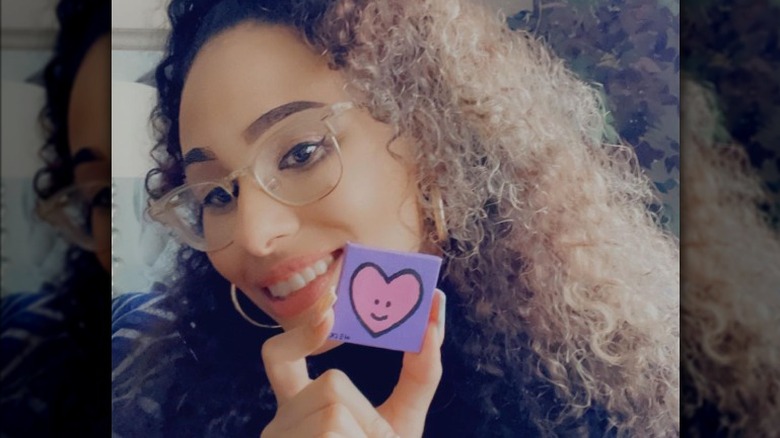 Former "America's Next Top Model" contestant Angelea Preston appeared on the show during Cycles 12 and 14. She later returned to the show for Cycle 17, "America's Next Top Model: All Stars," according to Bustle. Preston won that Cycle, but her title was given to Lisa D'Amato after producers discovered she had previously worked as an escort. Preston told Bustle that after Cycle 14, she had trouble finding work as a model. "I would bring my portfolio to an agency, which had all my 'Top Model' photos in them," she said. "I remember going to an agent in New York, and he asked, 'This is a "Top Model" portfolio, isn't it?' After I said yes, he scoffed and closed my book."
Preston later turned to escort work as a way to support herself after she was approached by a man she referred to as "T." Sadly, the model didn't know what she was getting herself into and 'T' went on to abuse her when she refused to have sex with the men she went on dates with, per Bustle. The model was able to escape 'T' and was later contacted to appear in Cycle 17. Claiming that she had informed producers of her past, Preston filed a $3 million lawsuit against the show in 2014 for disqualifying her (via TMZ).
Eugena Washington was put in a dangerous situation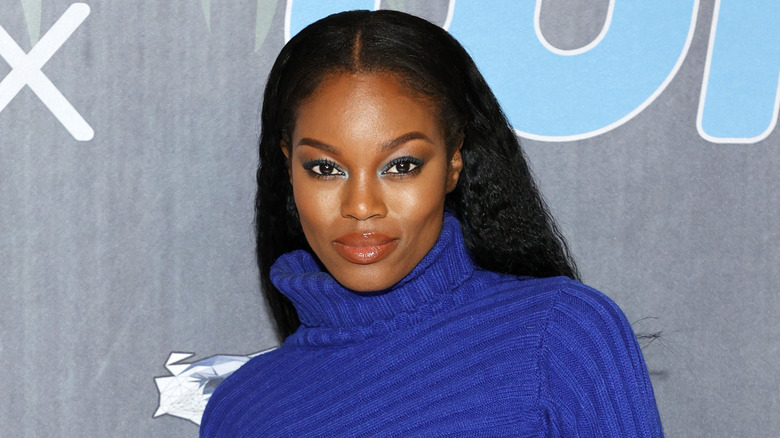 A shocking article from Business Insider detailed the stories of "America's Next Top Model" contestants who shared that they had horrible experiences on the show. Eugena Washington of Cycle 7 was among the models who had to walk in dangerous runway shows during the competition. According to Business Insider, she had to strut down a wobbling runway in six-inch heels. "I felt like my life was being put on the line for ratings," she told the outlet.
The former contestant spoke more about her time on the show during an appearance on the "Behind The Velvet Rope" podcast. She explained that the aspiring models were transported from location to location in an SUV with windows covered in stickers. This prevented them from being able to see outside, so everything came as a complete surprise.
Many of the show's contestants looked up to Tyra Banks before they really became familiar with her on set. "I felt kind of trapped in this situation where I thought I had an ally or someone who understood me," Washington said of the TV host. She went on to share that her confidence was depleted even after she left "America's Next Top Model," and that participating in the show left a number of young women like herself dealing with the loss of their self-esteem. "Talking to a lot of contestants, it took us years to recover the things that we lost on that show," Washington said.
Sarah Hartshorne wasn't paid well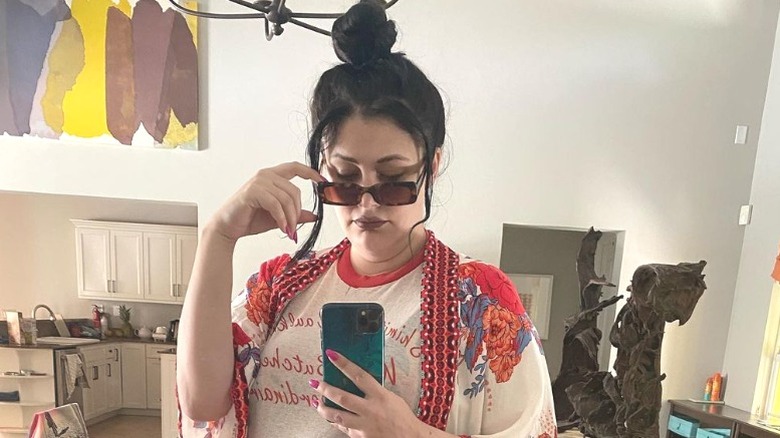 Cycle 9 contestant Sarah Hartshorne likely shocked fans when she took to Twitter to reveal how much "America's Next Top Model" contestants were paid. "$40 a day, no residuals, and we had to pay for food," she wrote in reply to a social media user who seemed surprised by the low pay. It turns out that this wasn't the only mistreatment Hartshorne said she experienced on the show. "We were given a $38 daily cash stipend that we had to use to pay for our own food," the former reality TV star said in an interview with the New York Post. "And they didn't even give us a microwave to heat the food up."
The model-turned-comedian went on to reveal that producers did everything they could to create drama. Hartshorne alleged that this included keeping models stressed. "We never knew where we were going at any given time," she later explained, confirming what Cycle 7 contestant Eugena Washington revealed. "They would transport us from place to place in a windowless van and we'd have to face every situation totally clueless and out of sorts." Intimidating contracts were also a problem, according to Hartshorne. She alleged that if a loved one wasn't willing to sign an NDA, they couldn't speak to a contestant.
CariDee English couldn't make it to the top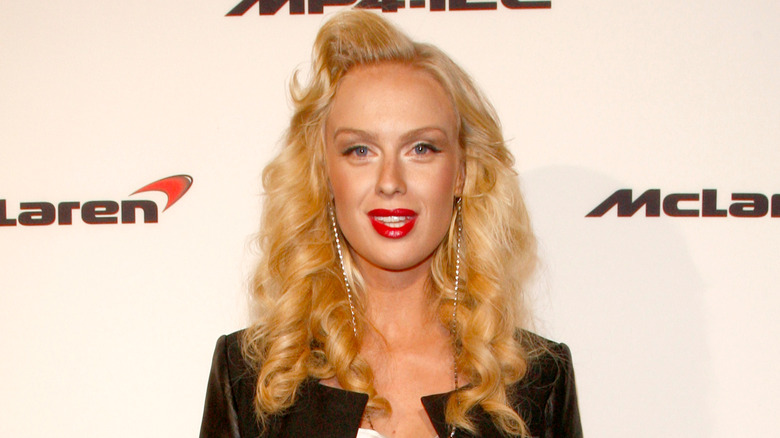 Like many former "America's Next Top Model" contestants, CariDee English's victory didn't take her far. The model won Cycle 7 but seemingly didn't have much support after she left the show. When news of Jael Strauss' struggles broke, English spoke out about how the show left her in a difficult place. "Tyra won't do anything [for Jael]," English wrote in the comments of a Gawker article about Strauss. "She provided a wonderful platform for girls to have a chance at their dream, but after there is no 'Tyra Mail.' I had to guide myself, and even though I won a model competition I still had no idea what the modeling BUSINESS was like." The model went on to share more about the lack of support for models and how the industry looked down upon those who got their start on the show.
In February 2022, English took to Instagram (via The Sun) to open up about her relapse into addiction, which led to an injury. "Early on Monday I sustained a serious head injury," the former model wrote in the caption of the now-deleted post. "I still am putting the pieces together. I have had multiple seizures (my first) and mobility issues I'm currently fighting hard for!" English went on to explain that she planned to undergo treatment at a rehabilitation facility.
If you or anyone you know needs help with addiction issues, help is available. Visit the Substance Abuse and Mental Health Services Administration website or contact SAMHSA's National Helpline at 1-800-662-HELP (4357).
Katie Cleary's husband died by suicide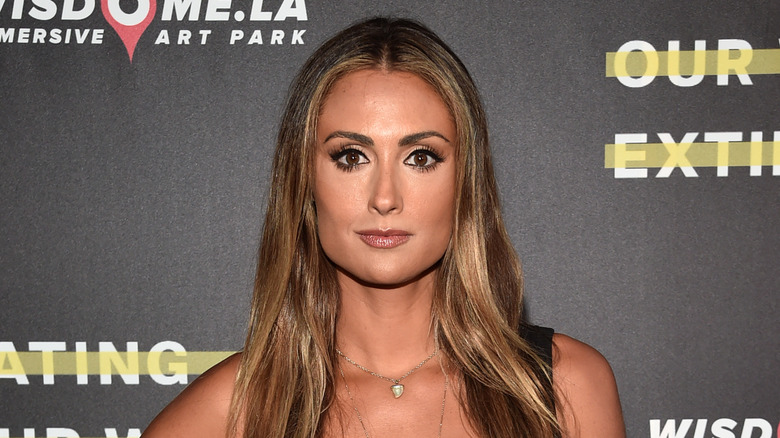 Katie Cleary of Cycle 1 went on to become an animal rights activist after leaving the show. Although she dabbled in modeling, it seems that she first hoped to spend her life working with animals. "I wanted to be a zoologist or a veterinarian," she told A Sunny Space. Animal activism aside, Cleary also spent her post-"America's Next Top Model" years married to Andrew Stern. Tragically, Stern died by suicide in June 2014 while he and his wife were going through a divorce.
The couple's family shared a statement with People amid speculation about the tragedy. "On Sunday, June 22, Andrew Stern, husband of Katie Cleary, committed suicide at a shooting range in the San Fernando Valley," the family shared. "Andrew and Katie have been in the midst of a very amicable separation and had remained on excellent terms. This is devastating news for us but we have been aware of Andrew's longtime struggle with depression." Rumors had been swirling about Cleary after she was spotted with Leonardo DiCaprio months prior, but the family denied anything romantic between the two. They shared that DiCaprio and Cleary's communication "was fully for the purpose of potential collaboration for environmental and animal welfare issues."
If you or anyone you know is having suicidal thoughts, please call the National Suicide Prevention Lifeline​ by dialing 988 or by calling 1-800-273-TALK (8255)​.