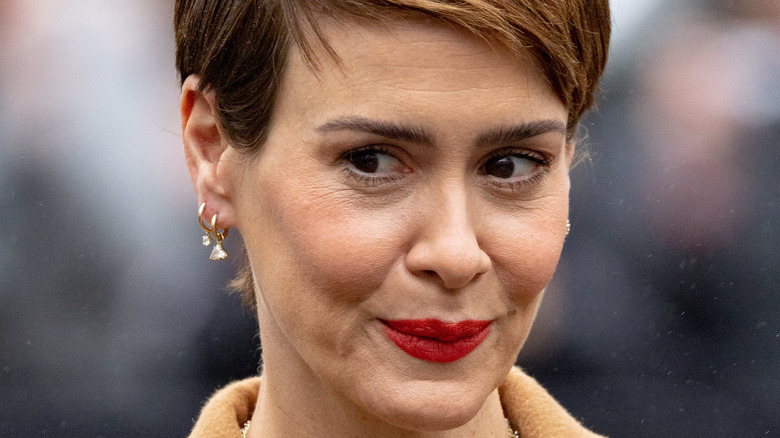 Sarah Paulson is the epitome of a versatile actor. While she is known for playing myriad roles on various seasons of "American Horror Story," she has also embodied real-life figures such as O.J. Simpson prosecuting attorney Marica Clark and Monica Lewinsky's shady co-worker Linda Tripp. And those are just her TV roles. Paulson, who grew up in Tampa, Florida, and moved to New York with her mother as a teen, has appeared in films such as "Oceans 8," "The Goldfinch," and "12 Years a Slave."
Her career is impressive, and she is super down-to-earth and likable. She has awesome friends and an amazing girlfriend. So, what's the catch? There ... isn't one. Sarah Paulson is a really cool person with odd phobias and guilty pleasures, just like the rest of us. But that doesn't mean she isn't fascinating. Let's take a closer look into the life and career of Sarah Paulson, the woman who has been delightfully haunting our small screens for years.
1. How she got her start as an actor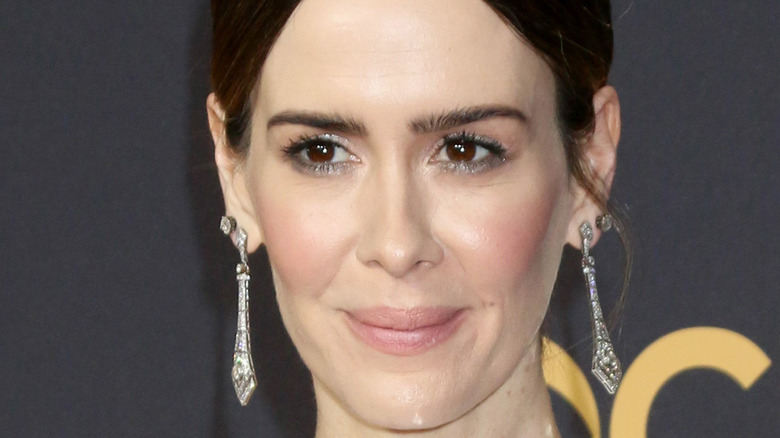 Sarah Paulson did not always aspire to be an actor. When she was little, she had something a little less glamorous in mind. In a conversation with Pedro Pascal for Interview, Paulson said, "I wanted to be a veterinarian or a marine biologist. Then I realized that I'd have to a, be a doctor or a scientist and b, I'd have to cut animals open and euthanize them. It ended pretty quickly." Lucky for us, she changed her mind!
While we are used to seeing Paulson acting on the small screen, her first professional gig was in theater. After graduating from Fiorello H. LaGuardia High School of Music & Art and Performing Arts (also known as the high school from "Fame"), she got her first job as an understudy in the Broadway production of "The Sisters Rosensweig." Paulson told The New York Times, "I opened the door, and I said, 'Mom, I got the part!' And her first response was, 'Oh, no, you're really going to do this?'"
2. Her early career and role on Law & Order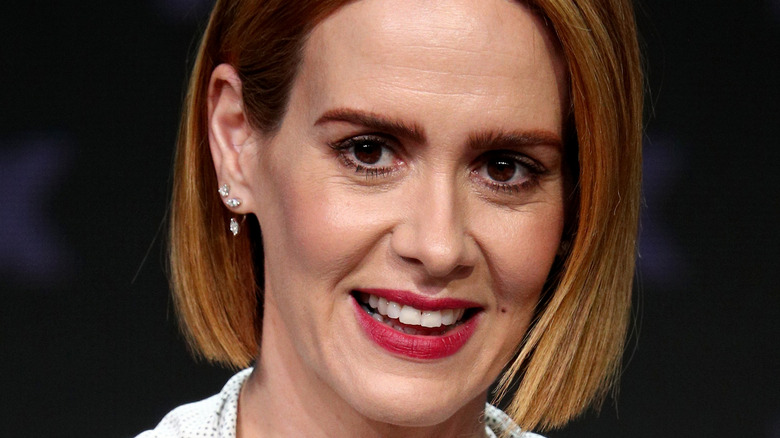 Sarah Paulson's early acting roles included appearances in TV movies and series. She appeared in "Cracker: Mind Over Murder," "Friends at Last," and had an 18-episode run on "American Gothic." But it was her very first TV gig, a 1994 episode of "Law & Order," that gave Paulson the confidence to pursue her acting career.
She credits producer and director Ed Sherin for helping her through a tough moment in her audition, which proved to be life-changing for the actor. "I couldn't cry because I was nervous. He 100% knew that I felt humiliated and embarrassed, and he just said, 'Do you feel that way?' And I said, 'Yes.' And then I started to cry, and he said, 'Go. Read the scene now.' And I did, and I got the part," Paulson shared with Collider.
She added, "For whatever reason, Ed Sherin took that extra moment with me and didn't let me leave the room ... Maybe it was total luck. Maybe there was something he saw. But he's why I got that job, which then allowed me to continue to pursue the career because I was able to make a living ... It's these little tiny moments where you just go, 'God, what would have happened to me if he hadn't done that?'" Sarah Paulson stans owe that man a thank you!
3. She met her BFF Amanda Peet on a '90s TV series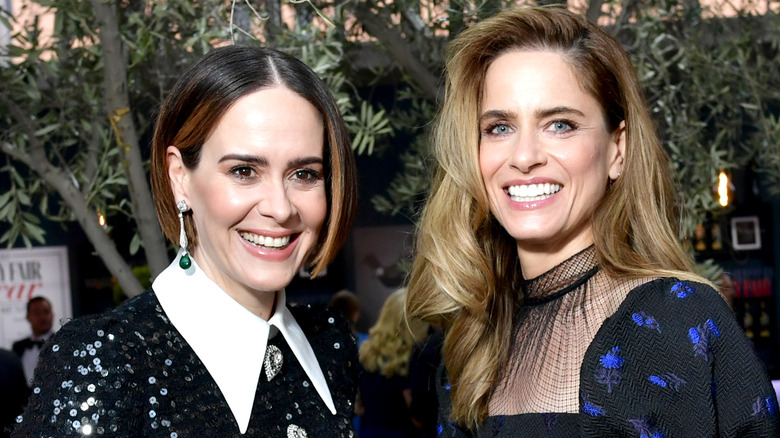 Sarah Paulson and her best friend, Amanda Peet, have an enviable relationship. The besties met while starring in the late '90s TV series "Jack and Jill" and have been inseparable ever since. Paulson was even in the delivery room when Peet gave birth to her daughter! "It's one of the longest [friendships] of my life," Paulson told People. "I find it incredibly grounding but also wildly chaotic in the most fun way possible."
The two actors dished to InStyle about the fashions they rocked in the early years of their friendship, teasing each other about sparkly shrugs, Abercrombie pants, and Juicy Couture sweats. But while trends are fleeting, theirs is a friendship built to last. "The hair, makeup, clothes, all of it seems very precious. But jobs come and go, and yet here we are, 20 years later, and we're still best friends. The rest of it just fades into the background," Paulson mused.
In their interview with People, Peet gushed about her best friend and their intense connection, saying, "I don't like it when she leaves me. It's like we were separated at birth." They really are friendship goals!
4. Her other best friend is Pedro Pascal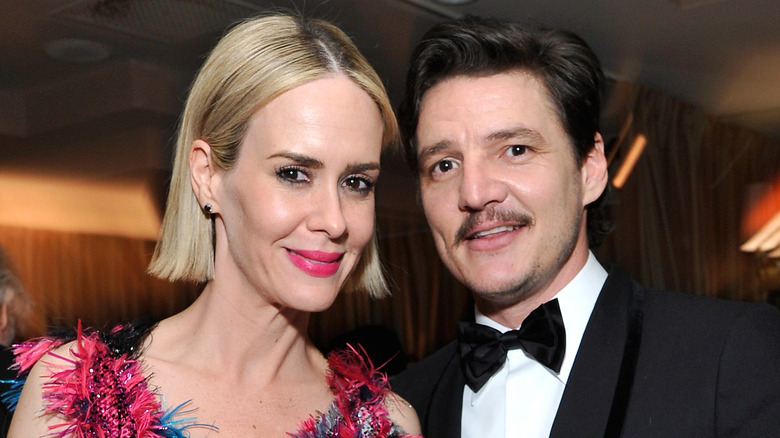 Sarah Paulson seems to have a knack for finding and keeping really great friends. She and fellow actor Pedro Pascal have been buddies since they were 18 years old. In their conversation with Interview, the pair chatted about their friendship and recalled hanging out in NYC together in the early '90s. "When I think about the debauchery, the things that we did, the kind of sh*t we were pulling, and the way we were behaving, I don't even know how we made it to the next morning, much less 20 years later," Paulson said.
But they did make it, and we love them for it. Paulson even played a pivotal role in helping Pascal secure his "Game of Thrones" audition. Cut to 2023, and the pals are still super close, even appearing in an SNL skit together. "Fine, it's true," Paulson says, "He's daddy, I'm mommy, and we're all a happy family. No crumbs left." The audience of "teens" in the sketch erupts into applause, as does the studio audience because really, that is how we've come to think of Paulson and Pascal.
5. Her award-winning performance as Marcia Clark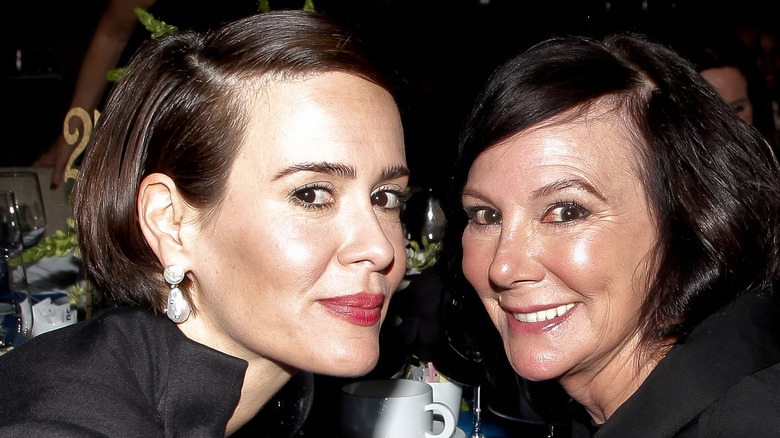 Although Sarah Paulson is known for her many roles on many seasons of "American Horror Story," her other projects have been critically acclaimed and have garnered her fans that might not be into the horror genre. In 2016 Paulson starred in "The People v. O. J. Simpson: American Crime Story," as prosecuting attorney Marcia Clark, a performance that won her an Emmy and a Golden Globe Award.
So, what does Paulson think of the woman she was portraying? "She's very funny. I feel like anything that makes the narrative shift about her stick makes me very happy because I've come to know her since we shot the show," the actor told GQ. "I have so much love and respect and admiration and reverence for her ... There's lots about her that's very complicated that we do not shy away from and we do not pretend wasn't so."
Of course, we'd be remiss if we didn't mention the signature perm Paulson adorned as the famous attorney. But Paulson acknowledges its place in the cultural conversation. "That's the first thing people say when they hear 'Marcia Clark,'" she told The New York Times. "They don't even think 'lawyer.' They just think 'hair.'"
6. Her least favorite AHS season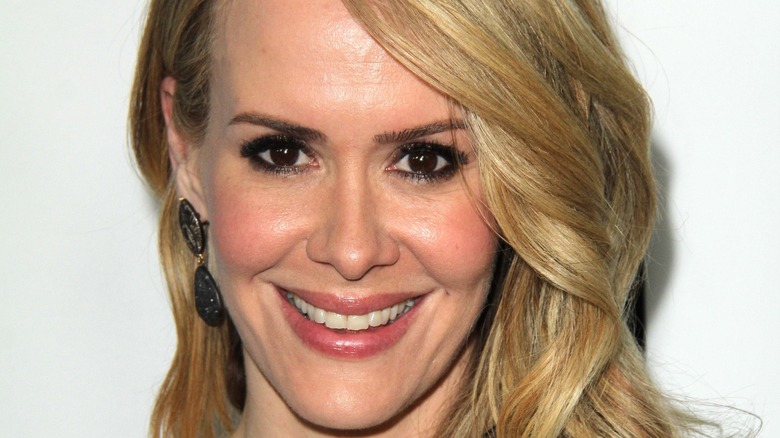 Sarah Paulson has appeared in an impressive nine seasons of "American Horror Story." With so many storylines and characters throughout the years, it stands to reason that Paulson might not have enjoyed every single one. Right after her star turn as Marica Clark in "The People v. O.J Simpson," Paulson began filming Season 6 of "AHS" titled "Roanoke."
The season was not a fan favorite, and Paulson didn't exactly love doing it. "I was so underwhelmed by the whole experience because I felt like I had entered into a new place inside of myself in terms of what I thought possible," she said on The Hollywood Reporter's "Awards Chatter Podcast" (via EW). "I felt really kind of trapped by my responsibility and my contractual obligation ... As much as it's my home, and I've loved it always, it was the first time I felt like I wish I could have gone to [creator Ryan Murphy] and said, 'Please let me sit this one out.'" But who else could have played Lana Winters besides Paulson?
7. Which AHS character was her fave?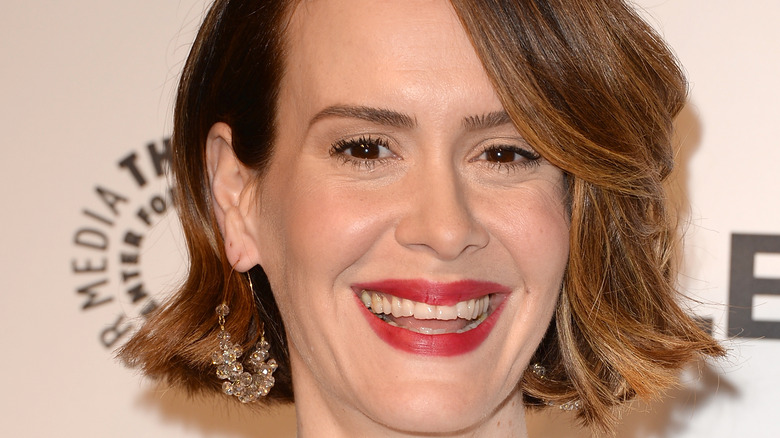 Of course, after playing so many characters on "AHS," Sarah Paulson does have her favorites. While fans rank Lana Winters from "AHS: Asylum" as the best in the series, Paulson had a different character in mind as the one she'd most like to reprise. The actor wanted to see what would become of her "AHS: Coven" character, Cordelia Foxx. "We only got to see her just getting her powers. I just would like to know ... if the power might have been something that kind of changed her. Maybe we'll get to see that," Paulson said at PaleyFest in 2017 (via Vulture).
In 2018, Paulson got her wish, as Cordelia and her coven returned for "AHS: Apocalypse." And even though the season did indeed end on an apocalyptic note, series creator Ryan Murphy teased even more screen time for our favorite occult girlies. "The witches will be back," he revealed to Entertainment Tonight in 2018.
8. Her romance with Holland Taylor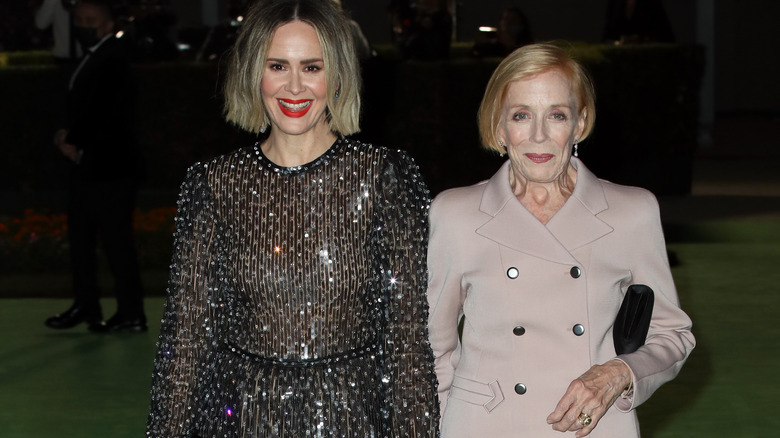 In 2015, Sarah Paulson revealed that she was in a relationship with actor Holland Taylor. The couple met at a party in 2005, but both were dating other people at the time. A decade later, Taylor slid into Paulson's DMs on Twitter, and they've been together ever since(via People). Like most celeb pairings, this one drew the public's interest, mostly because of the 32-year age gap between the women.
Paulson spoke about dating someone older in her interview with The New York Times. "I think there's a greater appreciation of time and what you have together and what's important ... I can't say it any other way than there's a poignancy to it and a heightened sense of time and the value of time," the actor shared.
Paulson has dated both men and women and spoke about the judgment she's felt having her love life in the spotlight. "If my life choices had to be predicated based on what was expected of me from a community on either side, that's going to make me feel really straitjacketed, and I don't want to feel that," she said. "What I can say absolutely is that I am in love, and that person happens to be Holland Taylor."
9. Why she took on her role in Ratched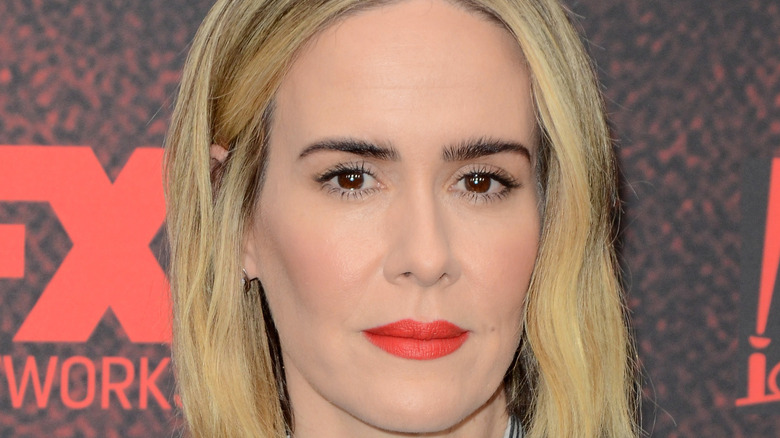 Sarah Paulson is not one to shy away from playing multidimensional characters and characters who are downright scary. In 2020, she starred as Mildred Ratched in "Ratched," the reimagined backstory of the nurse from "One Flew Over the Cuckoo's Nest." While she was hesitant to take on the role at first, she ultimately could not refuse. "It is so odd for someone like me because I am such a nervous kind of person, prone to anxiety, and I think if I feel terrified to do it, I almost feel compelled, that I don't have a choice," Paulson told The Guardian.
Paulson came to the defense of Nurse Ratched, explaining that she wouldn't have wanted to play a character that was strictly bad. "I don't believe she is straight-up evil ... I don't think I would have been very interested in playing the part if that had been the case," she told EW. "I've never really been drawn to things that are one-dimensional in any aspect of my work or my life."
10. How she transforms physically into her characters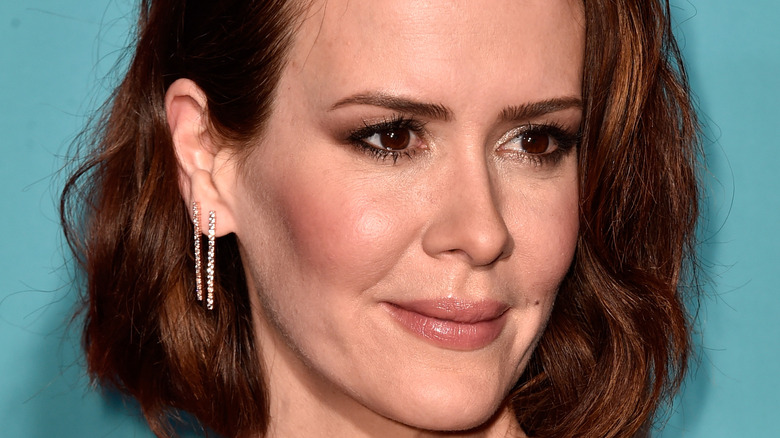 If we didn't know better, we'd have to assume Sarah Paulson was a shape-shifter. Between playing conjoined twins Bette and Dot, crimped-haired drug-addicted ghost Sally McKenna, real-life whistleblower Linda Tripp, and so many others, the actor often completely transforms her physical appearance to embody her roles. Aside from being really good at what she does, there are a few tricks that have helped her along the way.
For "AHS: Freak Show," Paulson plays twins joined at the chest, in other words, two distinct characters, one body, two heads. Aside from prosthetics and recording her lines so she could accurately do scenes with herself, Paulson had to put in a lot of work to make the Tattler sisters, Bette and Dot, believable. Ryan Murphy told The Hollywood Reporter, "She has to be left-handed, she has to be right-handed. She had to learn how to walk in a special way and did a lot of research on that ... It's absolutely the most challenging thing I've ever seen any actor do ever."
For "AHS: Double Feature," Paulson played Tuberculosis Karen, and as she told Seth Myers, the trick to the transformation was all in the eyebrows. While playing Linda Tripp in "American Crime Story," Paulson had to bleach her eyebrows, so makeup could create brows for her that looked more like Tripp's. The actor's eyebrows were still missing while playing Karen, and the fix was both creepy and effective. "Ryan [Murphy] came up with the idea to sort of do this Warholian eyebrow above the painted-out bleach. And so it was all a solve to hide Linda."
11. She is a Real Housewives superfan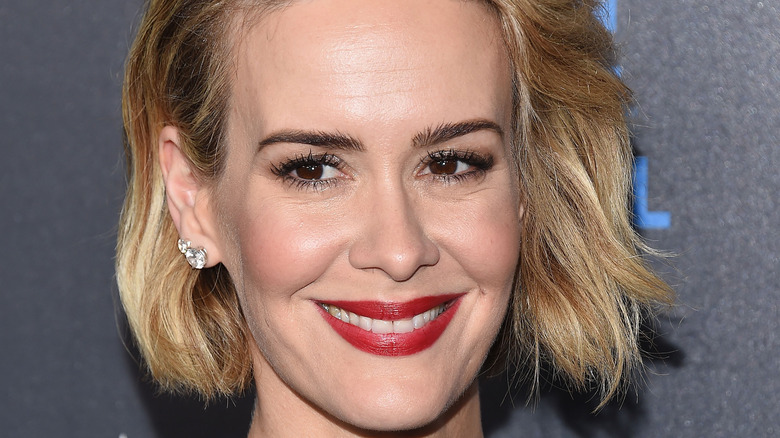 Like many of us, Sarah Paulson is a huge fan of "The Real Housewives." During her lie detector test for Vanity Fair, Paulson was asked some questions about her beloved Housewives. The actor revealed that she would miss Bethenny Frankel of "RHONY" and that she'd like to see Jill Zarin return to the series. She also admitted that she would not miss Lisa Vanderpump after her departure from "RHOBH," prefacing her comments with "I don't want her coming after me on Twitter." She added, "I met her once at a party; she wasn't that nice to me." Tea!
On an episode of "Watch What Happens Live," Andy Cohen brought out a guest to surprise Paulson — the one and only Dorinda Medley. Upon seeing the "RHONY" alum, Paulson went totally nuts, touching Medley's shoulder to make sure she was real, shouting, "This is Dorinda!" The fangirling was super cute and honestly super relatable.
The one Housewife she'd love to portray herself, though? "I just want to play Vicki," Paulson told Cohen on Radio Andy. "Vicki is a very fascinating person to me," she said of the "RHOC" OG.
12. Her many phobias and one unusual fear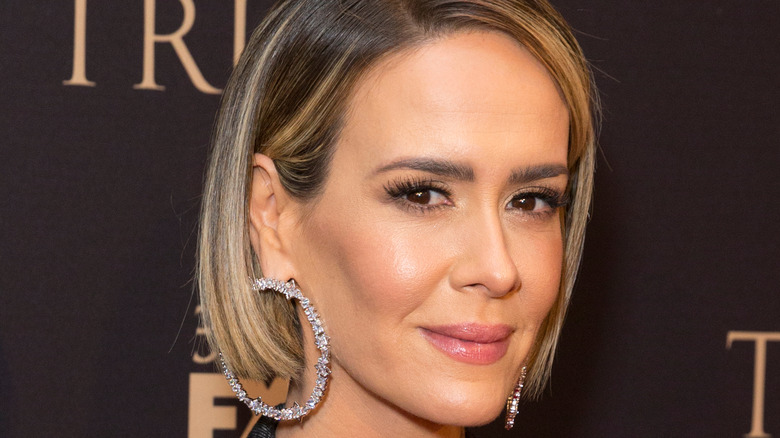 Who would have guessed that Sarah Paulson, whose characters have often instilled fear in viewers, has a host of fears and phobias herself? During her lie detector test for Vanity Fair, she confirmed that she has trypophobia, the fear of clusters of small holes. "I don't like anything clustered too close or nestled; I don't like it ..." she said. Upon being shown a photo of Honeycomb cereal, Paulson said nervously, "I don't like it, not interested in that, take it away, so I don't puke on you."
In an interview with Ellen DeGeneres, the actor listed even more things that scare her. "I don't like clowns. I have a fear of heights. I have a fear of bees." She added that the latter really freaks her out. "I could be carrying a small child, and if a bee came around, that baby's getting dropped," Paulson said.
She also went into more detail about her trypophobia, explaining, "I can't look at a coral reef or a natural sponge." While it may sound bizarre, this is a real phobia for Paulson and for many others. And while it's surprising that the actor has so many fears, we must admit it's kind of nice to be reminded that the queen of "AHS" is a mere mortal after all.