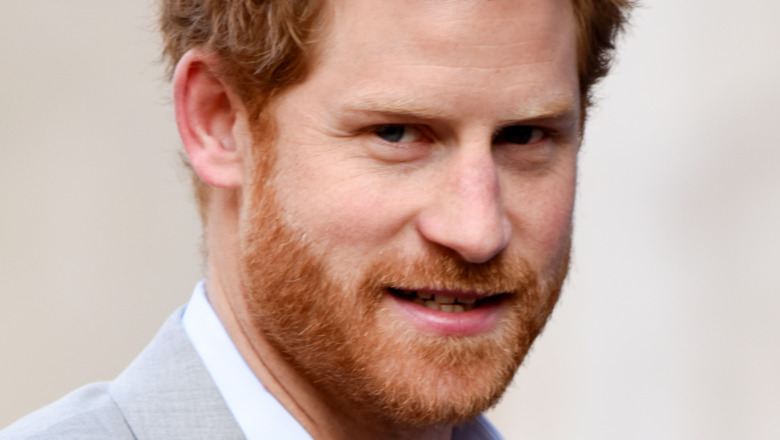 Prince Harry attended the funeral services for Prince Philip on April 17, and hopped on a plane back to the United States on April 20, about 10 days after he arrived in the UK, according to the Daily Mail. The Duke of Sussex stayed at his old home at Frogmore Cottage, according to People, where his cousin, Princess Eugenie, and her husband, Jack Brooksbank, have been living with their newborn son, August. Harry is said to be close with Eugenie, and obviously felt comfortable staying with her while in the UK, as they collectively mourned the loss of their grandfather. Harry spent several days in self-isolation in order to adhere by the government's COVID-19 regulations, before meeting up with his family outside St. George's Chapel for the funeral procession, six days after he arrived in London.
After Philip's service was held, Harry was seen chatting with his brother, Prince William, and his sister-in-law, Kate Middleton. And, according to The Sun, Harry had a meeting with William and Prince Charles, as his visit marked the first time that he saw his family in more than a year — and it was the first time that they all saw each other since Harry and Meghan Markle's bombshell interview with Oprah Winfrey aired back on March 7. However, there were a few people that Harry did not see during his stay. Read on to find out who.
Prince Harry didn't visit with his niece and nephews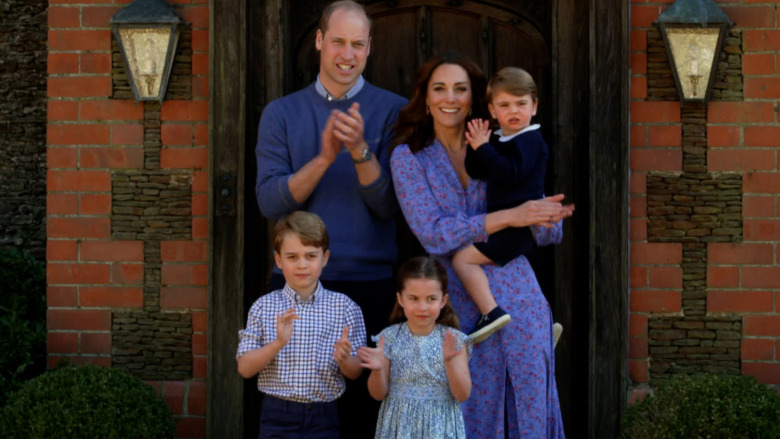 According to Us Weekly, Prince Harry did not see his nephews, Prince George and Prince Louis, or his niece, Princess Charlotte, during his April 2021 visit to the UK. George, Charlotte, and Louis were not in attendance at Prince Philip's funeral for a couple of reasons. According to Elle magazine, only 30 people were allowed to attend the service due to regulations put into place because of the coronavirus pandemic. The other reason given was that the children "are really young." All of Philip's kids and his grandchildren were at the service, but none of his great-grandchildren attended.
It seems surprising that Harry didn't see his only nephews and his only niece, given how close they've been in the past. A 2020 report from Marie Claire details just how special Harry's relationship has been with the three Cambridge children, and how he has showered them with gifts over the years. However, Harry was staying on the grounds of Windsor Castle, which is about a 45 minute drive to Prince William and Kate Middleton's home at Kensington Palace, which could have been one reason why he didn't get to see them. A source told Us Weekly that Harry spent his trip "in isolation at Frogmore [Cottage]," suggesting that he didn't visit with his brother's kids as a pandemic-related precautionary measure. The report indicates that Harry didn't see anyone outside of his immediate family before heading back to California.