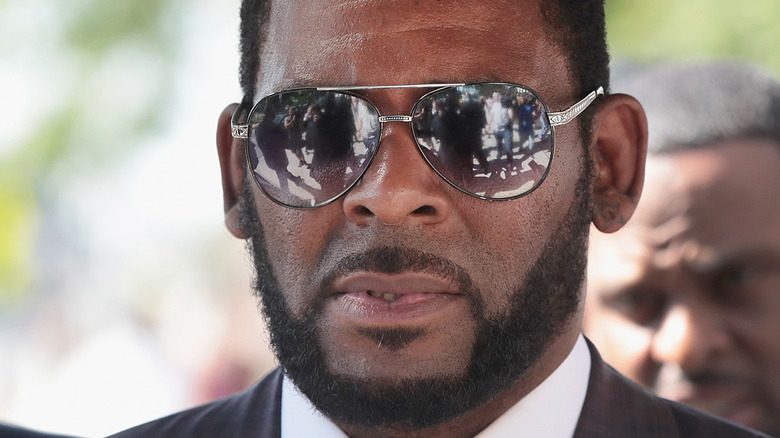 While the crimes of the once-lauded R&B singer R. Kelly have been told in great detail over the years by survivors through avenues like the 2019 critically acclaimed docuseries "Surviving R. Kelly," there are still new details emerging about the ways he was able to evade prosecution for so long. Kelly's trial for charges including sex trafficking, kidnapping, and child sexual exploitation is currently underway, and has contained its own series of revelations since its August 18 start date. As Buzzfeed reported on September 1, the latest of these is directly connected to Kelly's previous relationship with fellow singer Aaliyah — who was only 12 when she and Kelly, then 27-years-old, met in 1991. The trial also finally confirmed once and for all that Kelly had married her three years later in 1994, while she was still a minor.
Even though the marriage between Aaliyah (last name Houghton) and Kelly has been more or less assumed as fact for some time, Kelly continued to virulently deny it, as Buzzfeed noted. (Aaliyah, who died in a plane crash in 2001 long after her relationship with Kelly ended, was never able to tell her side of the story.) Now, however, a new account has emerged from a vital witness: the minister who married them. Read on after the jump to find out more.
The minister who married Aaliyah and R. Kelly said he didn't know who they were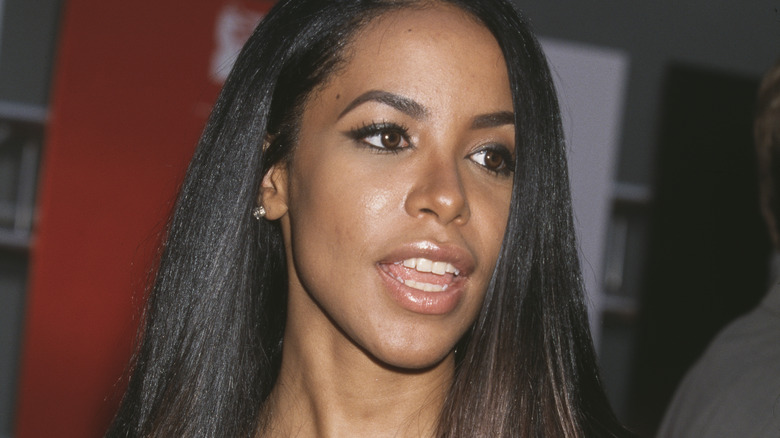 The minister who married R. Kelly and Aaliyah, a man named Nathan Edmond, finally told the story of what happened the day they tied the knot (though the marriage was annulled shortly afterward). According to Buzzfeed, Edmonson only spoke after he was subpoenaed to testify, stating outright that he did "not especially" want to take part in the proceedings over video call.
Despite Edmond's reluctance, the minister, now 73, stated he had no idea who either Kelly or Aaliyah were. "I didn't think it was anybody special — I didn't understand it at all," he recounted, adding that he participated after Keith Williams, "a friend of Mr. Kelly's, who was also a friend and associate of mine, asked me to do him a favor." He stated the entire ceremony was "about 10 minutes or less," and recalled that aside from the couple and himself, the only other people present during the event were Williams and "three other [unknown] gentlemen." Though the ceremony was nondescript, it was what happened before which stood out in the form of a confidentiality agreement Edmonds was given. "I looked at it, I read it, then I kind of chuckled... and said it wasn't worth the paper it was written on," he said, suggesting that it would never hold up legally. Instead, he promised not to tell anyone about the wedding and did not take payment for his participation.
Aaliyah rarely spoke about R. Kelly in her later life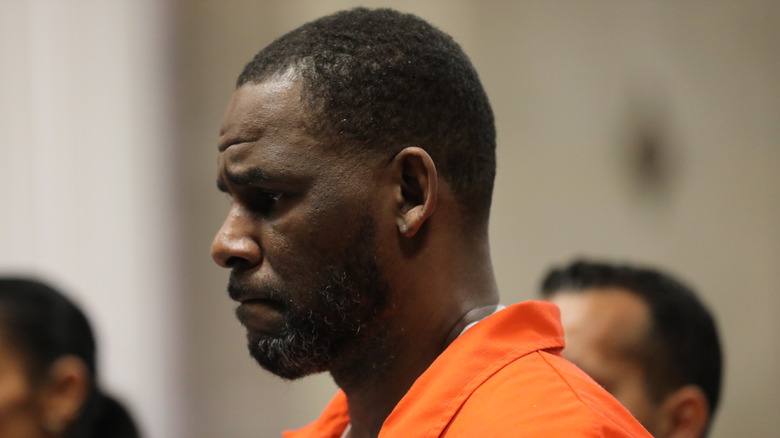 While Nathan Edmond's testimony spoke specifically to the larger picture of R. Kelly's former relationship with Aaliyah, which ended shortly after their marriage was annulled in 1994, it also remains one of the very few bits of firsthand information and insight into the dynamics between the couple. As Vox wrote in August, Aaliyah, who is listed as one of the six survivors in the case against Kelly, was by all appearances traumatized by her time with Kelly, so much so that she refused to speak of it to some of the people closest to her. Damon Dash, who was dating Aaliyah before her 2001 death, recalled in an interview that all the singer would say about Kelly was, "That dude was a bad man."
Even though Aaliyah might be the only survivor tied to Kelly's trial with name recognition, her story isn't the only one on which the prosecution's argument rests. Per The New York Times, five women who Kelly allegedly physically, sexually, and psychologically abused have or will testify about the ways in which Kelly greatly harmed them — and so far, their accounts could sway a jury to convict Kelly on multiple counts.
Evidence continues to pile up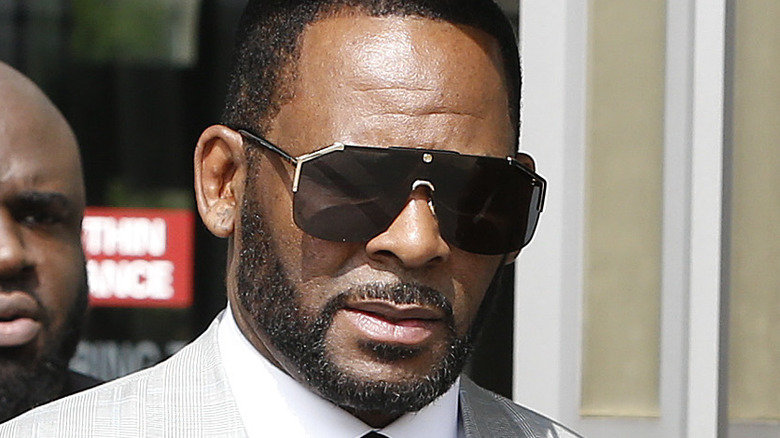 So, what are the chances of a conviction for R. Kelly? Considering the scope of the multiple charges against the R&B star compiled by NPR in August, it seems more and more likely that R. Kelly won't get off scot-free — or that if he does, he won't stay out of the reach of the legal system for long. In addition to the 22 federal counts Kelly is currently being tried for in a Brooklyn court, New York prosecutors informed those overseeing the case that they obtained evidence supporting "various allegations of sexual abuse, physical abuse, psychological abuse, bribery and threats against 20 Jane Does and [a] teenaged John Doe." In July, the federal prosecutors involved in the case moved to have this evidence included in Kelly's trial, a request which was by all appearances approved.
However, even though the case against Kelly seems airtight from an outsider's perspective, there's no telling what conclusion the jury might arrive at — especially after a judge ruled in July that all jurors be "anonymous and partially sequestered." The reason? The move, which was made by prosecutors, is in the interest of the jury's safety over claims that Kelly has a history "of trying to silence alleged victims and witnesses through bribes, blackmail, threats and intimidation."
If you or anyone you know has been a victim of sexual assault, help is available. Visit the Rape, Abuse & Incest National Network website or contact RAINN's National Helpline at 1-800-656-HOPE (4673).