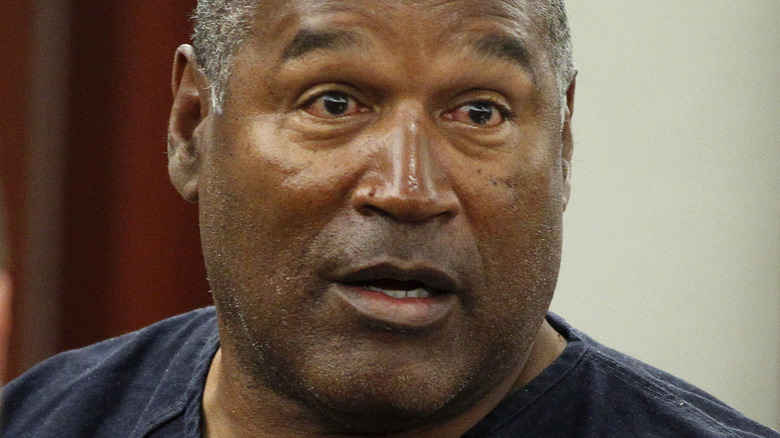 Although it has been more than 25 years since O.J. Simpson's "trial of the century," the disgraced former footballer every so often finds his name back in the headlines. Earlier this year, Simpson made waves when he told The Athletic that going back to Los Angeles makes him uneasy because he "might be sitting next to whoever did it" — meaning, the real killer of his ex-wife Nicole Brown Simpson and her friend Ron Goldman. "I really don't know who did this," he said. Nicole's sister, Tanya Brown, lashed out at Simpson, calling his words "absurd and disrespectful."
Although he was famously acquitted of the double murders, Simpson ended up serving time in prison for a different crime a decade later. In 2008, Simpson was convicted and sentenced to prison after holding two sports memorabilia dealers hostage in an attempt to steal back what Simpson believed was rightfully his, per The Guardian. Simpson served nine years before being released on parole in 2017, according to TMZ.
Now, Simpson's parole has ended prematurely.
O.J. Simpson is a 'completely free man'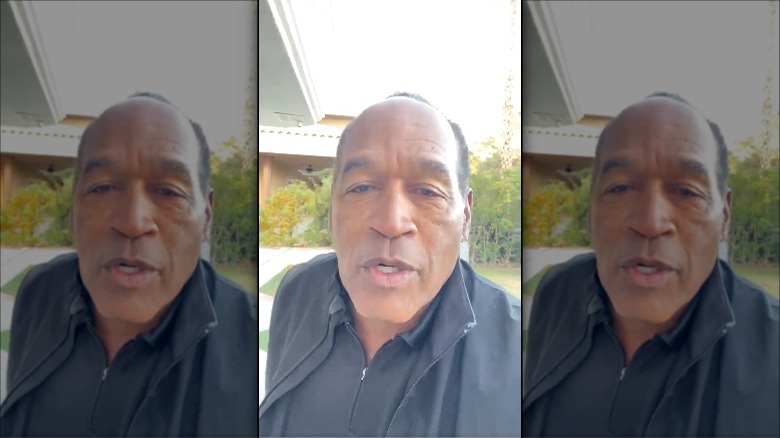 After accumulating credits for good behavior, O.J. Simpson was officially released from parole on December 1, reports the Associated Press. Simpson's parole was initially scheduled to end on September 29, 2022, but was moved up to February 9, 2022, due to good behavior. After a hearing on November 30, the Nevada Board of Parole shaved the roughly three months left off his term. "Mr. Simpson is a completely free man now," said his lawyer, Malcolm LaVergne.
While no one has commented publicly yet, it is safe to assume that the families of Nicole Brown Simpson and Ron Goldman will have something to say regarding the matter. After Simpson revealed that he had a severe case of COVID-19 that nearly killed him, Goldman's father immediately chimed in. "Out of all the people who've passed away from COVID, what a shame he wasn't one of them," Fred Goldman told the New York Daily News. "I certainly don't think he deserves any sympathy," Goldman continued. "He's alive, he's free. He can do anything he wants. Everything my son can't do." Nicole's sister Tanya Brown even lashed out at Kim Kardashian after her "SNL" hosting gig in October, telling TMZ she felt the jokes about Simpson from Kardashian's monologue were "beyond inappropriate and insensitive."