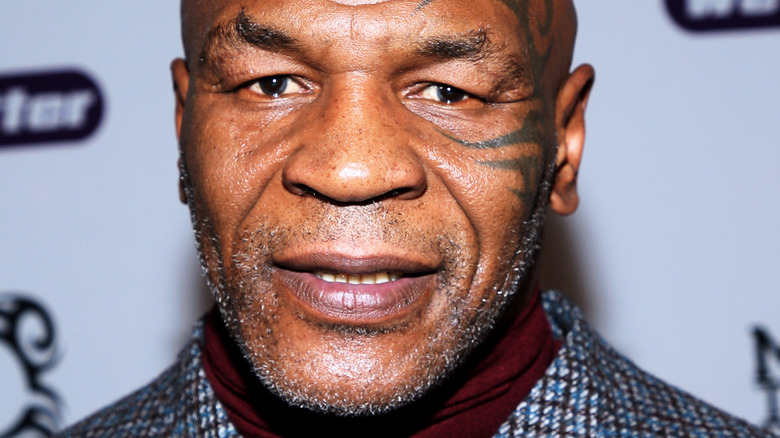 Former heavyweight boxing champion Mike Tyson may be an all-star athlete, but he has a rap sheet as long as his list of accolades. In 1992, Tyson was famously convicted of rape, per The New York Times. His victim was an 18-year-old Miss Black America contestant. He was sentenced to a whopping ten years in prison, but four of those years were suspended, and in the end, he only served three years of his six-year sentence.
His abhorrent crime came on the heels of publicly admitting that he had abused his then-wife, actor Robin Givens. In 1988, during a "20/20" interview with Barbara Walters, Givens revealed that being married to the boxing champ was "torture, pure hell, worse than anything I could possibly imagine," adding that he had an "extremely volatile temper," per Newsweek. After admitting Tyson, who was sitting right there during the interview, had hit her Givens went on to say, "He shakes. He pushes. He swings. Sometimes I think he's trying to scare me."
And of course, who could forget his infamous boxing match with Evander Holyfield in 1997, where he literally bit off a piece of Holyfield's ear, spit it out, and did it again, per NPR. So perhaps it's not so surprising that he has had numerous arrests and run-ins with the law.
Mike Tyson claims to have been arrested 40 times by the age of 12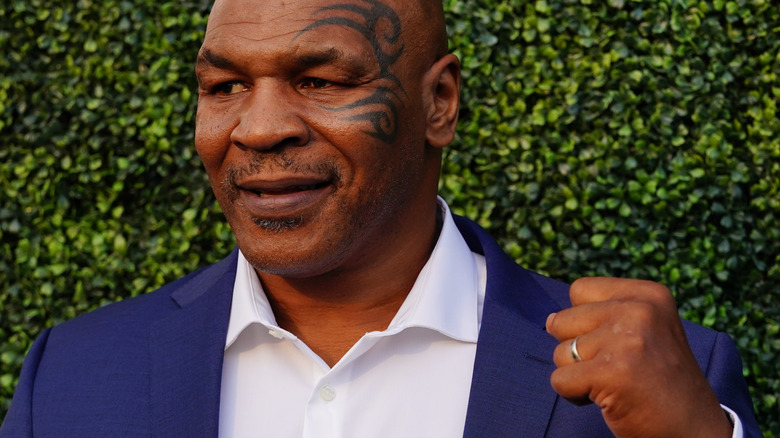 During a 2020 chat on the "Impaulsive" podcast, he stated that he had been arrested 40 times before the age of 12, admitting that his crimes varied from "burglaries, pick-pocketing, snatching jewelry," to actual assaults. "One-punch knockout and then go in their pocket, robbery," he said. With all those arrests, it would seem Tyson quite enjoys bragging about them. In 2016, during an appearance on "The Diego Show," he laughed that his "favorite arrest" was when he drove a car through a glass window. Ugh, maybe don't brag about that.
Despite that, Tyson appears to be attempting to rehabilitate his public image In 2022, he appeared on the "Revolt" podcast to say that he's trying to put all of his bad behaviors and crimes behind him. "Those days are gone," he said, referencing his violent past and struggle with addiction. "It's empty, I'm nothing. I'm working on feeling the art of humbleness. I don't want that person to come out, because if he comes out, hell is coming with him." He also said he's striving every day to be a "good person."
Mike Tyson still struggles to be the better person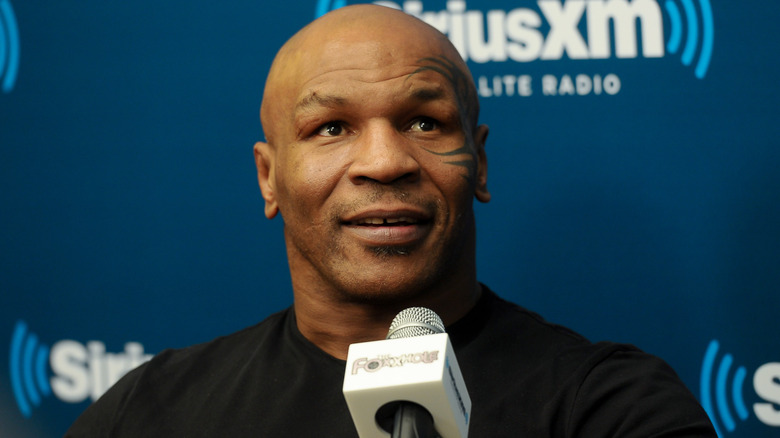 Despite his quest to reinvent his image later in life, it would seem boxing champion Mike Tyson isn't that interested in atoning for his crimes of the past. In 2014, while appearing on the CP24 news network in Toronto, he was questioned directly about his past. Tyson was in town to throw his support behind then-mayor Rob Ford who was seeking re-election. Ford would eventually withdraw from the race after his fatal bout with cancer.
CP24 interviewer Nathan Downer asked Tyson whether Ford's reelection campaign might be ruined with the support of a convicted rapist, per CBC. Tyson then went on an expletive-laden rant, and seemingly threatened the journalist. "It's so interesting to me that you come across like a nice guy but you're really a piece of s***," he cussed, and late told the journalist during the live-to-air broadcast, "F*** you." The full interview is pure cringe-worthy.
And he hasn't moved beyond physical violence to solve his problems either. In April 2022, Tyson was caught on camera punching a fellow airline passenger, per CBS Sports. Tyson claimed the passenger "was f***ing with me!" Tyson did not face charges for the altercation.