Once Prince Harry and Meghan Markle made the decision to step down from their duties and separate from the royal family, Prince Harry explained his side of things at a charity dinner. "What I want to make clear is, we're not walking away," he said (via Time). He mentioned that he wanted a "more peaceful life" with Meghan. "I've accepted this knowing that it doesn't change who I am or how committed I am," he added.
While people may have thought the reason for stepping down from their royal duties was because of privacy, Prince Harry and Meghan's press secretary, Ashley Hansen, said otherwise. "Their statement announcing their decision to step back mentions nothing of privacy," Hansen told the New York Times. She then added that the two's initial statement said that they still wanted to "continue their roles and public duties."
But in a 2021 interview with Oprah, Meghan claimed that she felt left out as a part of the royal family. "It was only once we were married, everything started to worsen, that I came to understand that not only was I not being protected," she said (via Page Six). "They were willing to lie to protect other members of the family." And it seems that the Sussexes' new Netflix documentary rehashes these claims.
Prince Harry claims he and Meghan Markle were 'gaslighted' by the royal family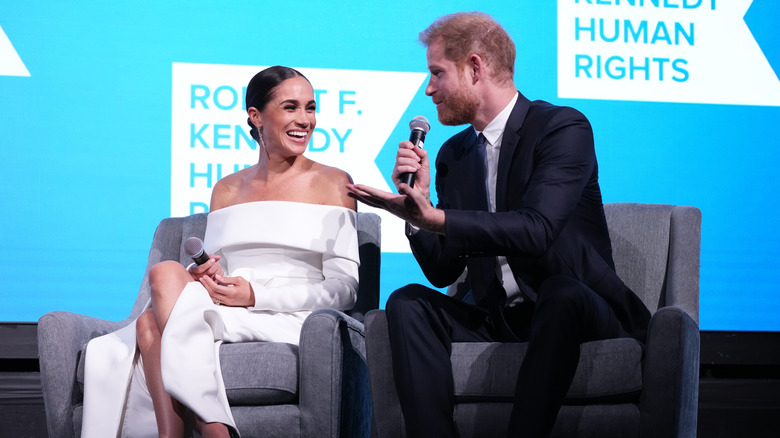 In the newest trailer for "Harry & Meghan," Prince Harry and Meghan Markle addressed their decision to separate from the royal family. "They were happy to lie to protect my brother, but they were never willing to tell the truth to protect us," Harry claimed, calling the family's actions "institutional gaslighting." Meghan claimed that she often felt like she and her relationship with Prince Harry were the center of the lies, driving them both away from the family. "I've always felt as though this was a fight worth fighting for," Prince Harry added.
A reason these claims may have been made might be because Prince Harry wanted to feel more independent, as Prince William is the heir to the throne. Royal author Jennie Bond told OK! (via Express), "[Prince William] knew his destiny as none of the rest of us do from such an early age ... He absolutely fully accepts the role and the responsibility destiny has put his way."
But even with Prince William being the future king of England, sources have said that Prince Harry always had an important part or role in the family's future amid his older brother's destiny. "Harry's position was set," an insider told People.